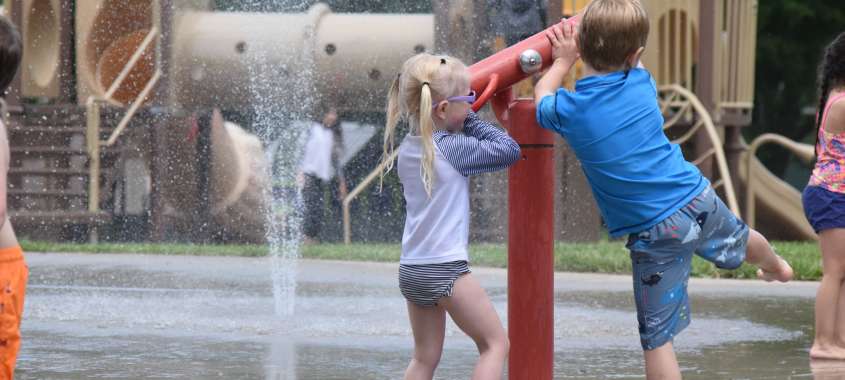 Let's face it - Iowa summers get hot! No one wants to be stuck at an outdoor picnic or family reunion in the heat. Those are the days meant for frolicking in the water and Iowa City has an abundance of options to keep you and your family cool.
Splash Pads
There's nothing better than the sounds of laughter, water splashing, and little feet slapping wet pavement. You'll find all of these things at Iowa City's three neighborhood splash pads. Open from Memorial Day until Labor Day from 9 a.m. to 8 p.m., these play spaces offer kids a place to burn off some energy while staying cool on those high temperature days. Water cannons, sprinklers, and waterfalls are touch-activated and run on timers. When your child is ready to take a break, they can play at the adjacent playground or dry off in the grass surrounding the splash pad. Come check out these incredible play spaces at Wetherby Park, Fairmeadows Park, and Tower Court Park.
Aquatic Centers
Iowa City is also home to several aquatic centers. Unlike the neighborhood splash pads, visits to the city pools will come with a small admission fee and cost more for non-residents. The charge is certainly worth it when you consider all of the benefits a pool can provide. Each of the pools at Mercer Park, City Park, and the Robert A. Lee Recreation Center have shallow areas for littles to explore as well as deeper areas with diving boards for older children and adults. The Mercer Park Aquatic Center is even equipped with a 12-person spa for those adults who want to relax their muscles after a long day of chasing littles. The Coralville Community Aquatic Center is a prime location to spend summer days with an open flume and space bowl body slides, diving boards, splash deck and play features. You'll also find families at North Liberty's indoor/outdoor aquatic center with floatable walk, waterslides, two diving boards and observation deck, among other features.
Lakes
Make sure to bring your inflatables, because there are two lakes in close proximity to Iowa City: Coralville Lake and Lake MacBride. Both have beach areas where individuals and families can swim. Of course, if you don't feel like swimming, other activities such as fishing, water skiing, kayaking, and paddle boating are also options. While Coralville Lake's beach provides you with your standard beach experience, Lake MacBride gives you a little bit more. This beach sits at the bottom of a grassy hill dotted with trees for shade and has a concession stand where beach-goers can purchase refreshments and food. If you don't want to worry about burning in the sun or going hungry, Lake MacBride is a must-visit beach on your trip.
There is one other water space that I must recommend in Iowa City. While it is a bit nontraditional, it never fails to draw children and adults alike toward it in the summer: Weatherdance Fountain. This modest fountain sits in the heart of Iowa City's pedestrian mall downtown. This fountain shoots high into the air to create an archway that children can easily walk through (and most adults also, so long as you crouch toward the end). Due to the current construction on the pedmall, the fountain is shut off. The city does have plans to get it up and running sometime this summer, and it will continue to be in operation until Labor Day.
This is by no means an exhaustive list of water play opportunities in the Iowa City area, but I do hope it has inspired you to check out a few of these unique and fun spots.
All posts are the sole opinions of the author and are not sponsored by Think Iowa City. For information on how to become a contributing writer, contact us.