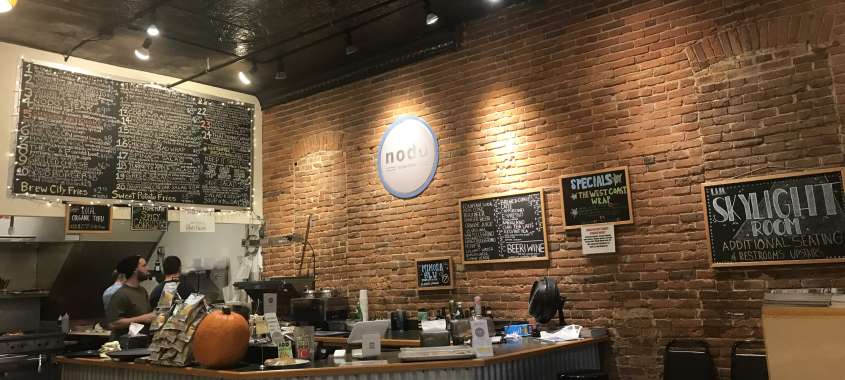 I have been some kind of "tarian" for the last seven years - either vegetarian (no meat, of any kind) or most recently, pescatarian (no meat minus fish and seafood).
As national eating trends shift, meat-free options are becoming more widely available. In Iowa City, that's been standard procedure for a long time. When visiting Iowa City, you will have no trouble finding a variety of tasty vegetarian dishes. Here are a few of my recent favorites.
Mushroom Sandwich from Nodo Downtown Iowa City. Nodo is a great place to grab lunch, tucked into a cozy corner of downtown. Come for the eclectic music selection and uber-friendly staff, stay for this incredible mushroom sandwich. Tangy, marinated portabella mushrooms add a "meaty" texture, paired with a generous spread of goat cheese pack a ton of flavor between two thick pieces of ciabatta bread.
Seitan Wings from Trumpet Blossom Café. Vegetarians: call your vegan friends, because everything on Trumpet Blossom's menu is sans animal products! Ok, so these are obviously not actual wings, but seitan (made from wheat gluten) makes for an excellent vegan substitute for one of America's favorite appetizers. Like the best wings, Trumpet Blossom's take is a mouthful of smoky, yet slightly sweet, flavor. The side of vegan herb aioli brings in the cool factor. A light sprinkle of dill adds color and lightens the entire dish. Last time I went, the soup of the day was a spicy vegetable curry…seriously, I like to think I can handle heat pretty well, but this soup had me asking for non-stop water refills.
Burrata from Saint Burch Tavern. Another one of those appetizers-turned-meals, but hey, this one is a knock out. Saint Burch's Soft burrata cheese surrounded by roasted fingerling potatoes and long cooked broccoli draw from classic comfort food inspiration, but this plate throws some unexpected curveball. The whole concoction is covered in green chimichurri – a sauce comprised of parsley, oregano, garlic, olive oil and red wine vinegar. The chimichurri with the slight char of the broccoli is incredible.

This is just a small snapshot of the vegetarian delight that is Iowa City. Here are a couple other spots to check out when you're in town:
Oasis – This hummus will change your life.
Masala – Like most Indian restaurants, Masala has plenty of selection for vegetarians and vegans, using the freshest veggies.
Happy eating!
All posts are the sole opinions of the author and are not sponsored by Think Iowa City. For information on how to become a contributing writer, contact Clarissa Kane.