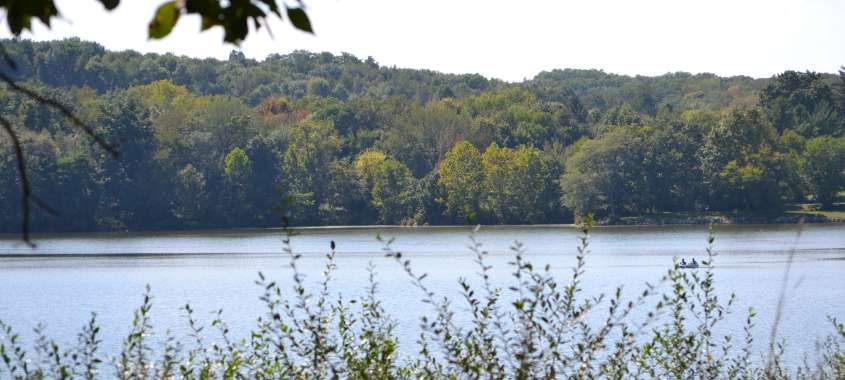 With warmer weather arriving, it's time to start planning your outdoor adventure bucket list, and the Iowa City area is the perfect place to start. In a community known for its firsts, we're redefining what it means to have fun in flyover country. Where European-inspired biking and indoor ax throwing meet tranquil water sports. Here are five activities proving Iowa City is a perfect destination for thrill seekers:
1. Kayak at Terry Trueblood Recreation Area
Terry Trueblood is a true urban oasis, where thrill seekers can take their pick at a plethora of outdoor adventures, all while being a less than 10 minute drive or 15 minute bike ride straight south of downtown Iowa City. Created from the site of a former sand and gravel quarry, its 207 acres of riverfront, lake, prairie, and timber leave plenty to explore.
Outdoor enthusiasts, myself included, love to rent kayaks from the friendly staff at the Fin and Feather H20 rental lodge, which is right along the lake's 95.5 acre shoreline. It offers a large collection of kayaks, including one tandem kayak, renting at $12 per hour, making for a spontaneous and affordable afternoon. There are even large group accomodations, making it a wallet-friendly birthday party or summer camp group option.
Once you've returned your equipment back to the rental lodge, hit the park's trails. A nearly two-mile loop trail connects to the popular Iowa River Corridor Trail, which clocks in at 14 miles long in its entirety. There's also a rugged hiking trail that abuts the Iowa River. Both are dog-friendly. Craving more? Terry Trueblood also offers canoe, stand-up paddleboard and pedal boat rentals as well as fishing, bird watching, and seasonal activities including ice skating.
Local tip: Don't worry about rushing back to shore. After your first hour on the water, your time will get rounded to the nearest quarter hour. There's no need to weigh down your kayak with outdoor necessities. The H20 lodge provides life jackets, drinks and food (including local Heyn's Ice Cream), sunscreen, and bug spray.
2. Hike at Lake MacBride State Park
Hard-core hikers find solace at Iowa's largest state park, the 2,180-acre Lake Macbride State Park. Situated just a 20-minute drive north of Iowa City makes it easy to meander through for several hours, without needing to lug around a lot of gear or food. Trails include the popular five-mile scenic multi-use trail adjacent to the lake and the one-third of a mile Hawk Ravine Nature Trail, the latter of which makes for a good introductory trail for your four-legged friends and tots.
Nearby, the convergence of the Iowa River and Coralville Lake on the Lake Macbride Interpretive Trail creates a stunning waterfall, giving this hike a full-on coastal vibe. The trail, albeit small, allows hikers to get close to the water's edge from a top large rocky bluffs. Over time, the formation of the waterfall has allowed hikers of all abilities to walk across it safely without getting their feet wet. You'll often find other hikers who have just finished their trek like to linger along the perimeter of the waterfall.
Local tip: While gorgeous any time of day, I've found that the Lake Macbride landscape, including local wildflowers, timber, birds of prey, and the many boaters, are most enjoyed during sunset. The waterfall and adjacent trail can be accessed by driving into the Macbride Nature Recreation Area. The entrance to the Interpretive Trail is connected to the parking area, where you will want to keep right at each fork along the trail until you connect to the shoreline. From here, the waterfall is a quick 10 minute hike away.
3. Rock Climb at UI Campus Recreation & Wellness Center
Since opening in 2010, the University of Iowa's Campus Recreation & Wellness Center has become an integral part of the community's fitness-focused identity, and its 52 ½ foot climbing wall stands right in the heart of it all. Standing over three stories tall, it's the tallest indoor climbing wall in the entire state, and is the perfect training ground for climbers of all skill types, sporting bulges, roofs, arêtes, cracks, and a separate bouldering wall.
Built to look and climb like real rock, it boasts 10 top rope stations, and users can bring in or rent equipment on-site. The wall offers several activity levels, including affordable "try climbs," which are designed for people new to the sport, and cost just $5.
Local tip: The climbing wall is available to rent for adventurers looking to celebrate birthdays or other special occasions in a decidedly different way.
4. Throw axes at Hatchet Jack's
The ax-throwing craze made popular in more expensive coastal cities arrived in Iowa City in July 2018, laying claim as Iowa's first such bar, and has quickly caught the eye of local thrill seekers alike. Unlike some studios in larger communities, Hatchet Jack's home inside a former video rental store is expansive, light-filled, and offers a good selection of local craft beer. Friendly, attentive staff known as "ax-perts" accompany your group during your visit, and provide knowledgeable techniques every step of the way, and will even take photos and Boomerangs of your group, perfectly fit to share on your Instagram story. Each ax-throwing lane is set up similar to a bowling lane, with chain-link fencing serving as the "bumpers," which prevents injury.
Local tip: Hatchet Jack's is conveniently located on Highway 1 West in Iowa City, less than a mile from the city's new Riverfront Crossings Park and Big Grove Brewery & Taproom. On warmer days, head over on your bike, and be sure to make pit stops at Fin & Feather, a longtime local outdoors retailer located next door, and the newly-opened Starbucks for a necessary caffeine fix.
5) Cycle at Creekside Cross
Cyclocross, the high-endurance bicycle racing sport that takes riders through a variety of elements and obstacles, is a new-found passion for many locals - and for good reason. Over the last several years, the Johnson County Fairgrounds in Iowa City has been one of only a few North American stops on a world cup race, bringing thousands of professional and amateur riders into the community for three days of racing, food trucks, music, and more. For the fourth year in a row, Iowa City will the Telenet UCI Cyclo-cross World Cup September 13 - 15.
International racers and spectators have showered praise on our community's embrace of the sport, so it should come as no surprise that a permanent training facility for cyclocross riders opened in Coralville. Measuring 2.6 miles, Creekside Cross is the first permanent cyclocross course in Johnson County. Admission is free, and for thrill-seekers looking for cyclocross alternatives shouldn't fear: the course is also open to cross country running and cross country skiing.
Local tip: Make the Telenet UCI Cyclo-cross World Cup the centerpiece of your thrill-seeking weekend by attending all three days.
All posts are the sole opinions of the author and are not sponsored by Think Iowa City. For information on how to become a contributing writer, contact us.