Summer is one of the best times to visit Iowa City. This Hawkeye-loving university town takes a well-earned summer hiatus from the hustle and bustle of busy class schedules, Big Ten sporting events, and general campus life – leaving time for simple summer pleasures, like sampling the many delicious ice cream shops in the Iowa City area. 
Below are our family's three favorite local ice cream shops in Iowa City. There are many other sweet spots including Jon's Ice Cream Store & Restaurant in Tiffin, open seasonally, so plan a visit to the Iowa City area's Collection of Curious Communities and pencil ice cream into your itinerary.   
1. Heyn's Premium Ice Cream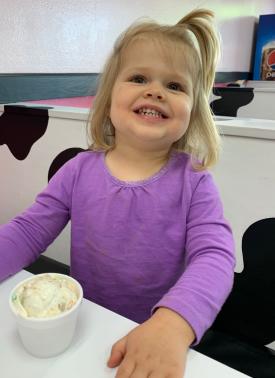 With locations on the east side of Iowa City and North Liberty, Heyn's offers the full gamut of ice cream – ranging from hard-scoop, to soft serve, with sundaes and twisters in between.  There is something for everyone on this expansive menu.  
With more than 40 flavors to choose from, many of Heyn's offerings are decadent. We enjoy a scoop of the Oreo Coffee, a smooth coffee ice cream with generous chunks of Oreo cookie, the Blueberry Cheesecake, with swirls of blueberry and graham cracker, and for the kids the Cookie Monster, which is basically a monster cookie in dense, ice cream form. Talk about tasty!  
In addition to the thick, and creamy old fashioned ice cream, the Iowa City location is also eclectically adorable with baby pink walls and accented with dairy cow decorations. It's an experience to order at the counter, sit in big, squishy booths and enjoy a hand-scooped treat. 
2. Dane's Dairy 
Dane's Dairy offers a variety of soft serve flavors that are delicious as simple cups or cones, and can be supped up as specialty sundaes, shakes and twisters. Located off the beaten path near Highway 1 in Iowa City since 1960, this gem is tucked behind a Casey's gas station and is only open seasonally. You can't miss the large ice cream cone sign, or red building. The simplicity of Dane's Dairy is alluring, with an old-fashioned walk-up to order counter, or drive-up to order drive-through. No headsets or speakers here. 
Dane's is the place we go for cones and sundaes. It's the only other place we know that offers fruit flavored soft serve, like strawberry and blackberry, besides Carver-Hawkeye Arena.  This will satisfy those basketball season cravings during the high-heat of the summer. 
3. Bread Garden Market 
Nothing is more Iowa City than a walk in the Ped Mall during the dog days of summer with a dripping ice cream treat in your hand. There are several great places to try in the downtown area, but we'd recommend a stop at Bread Garden Market for its in-house gelato. 
Offering two-dozen flavors, ranging from tangy, refreshing fruit flavors to more rich chocolates and a stracciatella, this is the place to stop during outdoor Friday night concerts, or for a sweet treat after a delicious downtown meal on a Saturday night. If you take your gelato with a side of espresso or a fresh baked pastry – no judgment here. Gelato is just one of the many satisfying offerings at this delightful establishment located in the heart of Iowa City's ped mall.
The hot, humid weather is the perfect reason to venture out and enjoy a regular scoop at Iowa City's many ice cream shops. What's your favorite Iowa City area ice cream shop?
All posts are the sole opinions of the author and are not sponsored by Think Iowa City. For information on how to become a contributing writer, contact us.