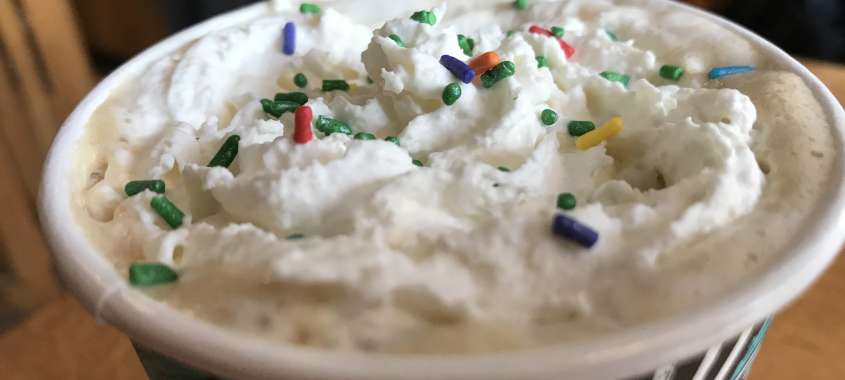 Iowa City is home to the nations' first UNESCO City of Literature – and the world-renowned University of Iowa Writer's Workshop – which obviously means we as locals need a jolt of joe for all the wordsmithing and workshopping that happens in this town.  It's only natural that good coffee is the peanut butter to good writing's jelly.
Let me start this post by saying this is a list of some of my personal favorite coffee shops – as a local. There are many wonderful coffee houses that are not mentioned in this post. Please, do yourself a favor: come visit the Iowa City area and make your own list of top java joints. There are many to sample, sip, and savor.  
Java House, 211 E Washington St, Iowa City
Java House is a cozy coffee house  located in the heart of downtown Iowa City – and is so wildly popular it has expanded to several locations on the University of Iowa campus, and to other parts of town. This hot spot serves up pour-over brews with tantalizing aromas. The American Gothic, a French roast – is my personal favorite in-house brew, but an espresso bar also offers sweet lattes and strong shots. The sugar cookie latte tops my list when craving a special treat. Pair it with one of their massive cookies and you'll spend your afternoon swooning in a sugar coma.
Bread Garden Market, 225 S Linn St, Iowa City
Bread Garden Market offers an exceptional experience, as this coffee bar is part of a gourmet food market with – you guessed it – delicious fresh, baked breads, along with an extensive salad and hot-food bar. This is the perfect spot for a long lunch, followed by a hot coffee. My go-to order is a hazelnut latte with skim milk and a dash of chocolate coco. The Americano is also gratifying.
Prairie Lights, 15 S Dubuque St, Iowa City 
The café located inside iconic downtown Iowa City bookstore Prairie Lights is simply magical. The delicious aroma of locally baked pastries from Deluxe Bakery, plus strong coffee, adds to the nostalgic ambiance of a joint that feels and looks like something out of an old movie. Nothing is more Iowa City than curling up in this literary oasis with a good book and a delicious cup. This unique spot offers traditional brewed coffees, espresso drinks, and a creative specialty drink menu – try the most popular Black Rider, a dry cappuccino with organic caramel, topped with black sea salt flakes.
Press Coffee, 2201 E Grantview Dr, Coralville
This wouldn't be a real tour if we didn't feature fresh pressed coffee – right? Well, we have a spot that is different from many of our other local stops that offer pour-over style. Press Coffee Co., a Coralville favorite, serves up a Press for Two (perfect for sharing), a Press for One, and a Pressed for Time (for those unwilling to wait). As an extra perk – this joint also features a variety of pastries along with scrumptious Daylight Donuts! Press is sure to leave you salivating.
Capanna Coffee, 6 Pacha Parkway, North Liberty 
Who doesn't love their favorite coffee, with a side of gourmet gelato? Capanna, located in North Liberty, is not only unique in that if offers a variety of gelato flavors, but it also roasts its coffee beans to perfection in-house. This spot has an amazingly rich smell that can only be found in this specific shop. I lean toward The Englert Blend – a nod to Iowa City's historic downtown theater, but I've never sampled a bean that I didn't like.
Explore Iowa City's fantastic coffee scene – the perfect way to warm up and have a little fun during Iowa winters.
All posts are the sole opinions of the author and are not sponsored by Think Iowa City. For information on how to become a contributing writer, contact us.