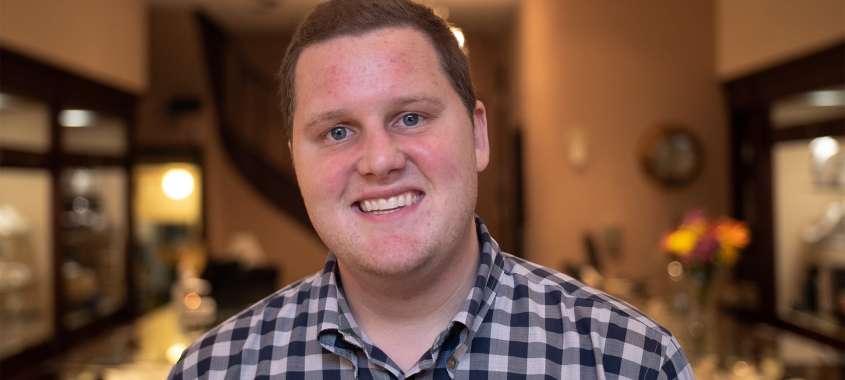 I interviewed 4 local business owners on what "shopping local" means to them. In one word: Community. While each of them are in different industries, they share a common set of beliefs about why it's important to shop local:
Like-minded people who want to be a part of a vibrant local community and make an impact
They enjoy donating to local causes and giving back to charities and nonprofits
The Corridor is a great area loaded with local small businesses to support
Local resources fosters more growth and creates more job opportunities
By supporting local, you ensure tax dollars stay here to be redistributed
Get to know these local entrepreneurs, their passions, and the businesses they've built.
Charlie Nusser, General Manager | Hands Jewelers
Charlie has been in Iowa City his whole life. He is a community-oriented individual, huge Hawkeye fan, and has been involved in various non-profits since high school serving on many boards over the years. He and his new bride, Rachel have two golden doodles. Charlie is the 5th generation in his family owned business, who worked his way to General Manager from Janitor.
Hands Jewelers has been in business for 166 years and is Iowa's oldest jewelry store. The business has been a staple in the Iowa City community since 1853 and his family even helped start the first library in Iowa City. The family has a strong sense of Corridor pride, giving back and being the best it can be. The store is well known for high quality jewelry and excellent customer service with the tagline of "delivering the unexpected everyday." To Charlie, that means "If there's a way to get it done, we will do it. There's not much we won't do to keep our customers happy and coming back."
The reason to shop local for him is simple. "Especially in the jewelry industry, you have to be able to trust people. Seeing that familiar face and being able to trust the person working on a repair. We are handling heirlooms and don't take that lightly. We know how much these pieces mean to our customers and we are proud they trust us to take care of them and their valuables." You will find Charlie engaging with both customers and staff on the sales floor. If you are looking for a high quality gift, excellent customer service, and want to support a long-standing family-run business, you're in good Hands with Charlie.
Laura Taylor, Top Dog | Woofables
Laura moved to Iowa for college at the University of Iowa, met her husband Alex, an Iowa native, and ended up staying. She is a big animal lover - she has two dogs, two cats and a grand-dog. Together, she and Alex have raised their four children here. As the "Top-Dog" (aka Owner/CEO), Laura feels passionately about spreading confidence and knowledge to other young women. She says, "it's been fun to watch my three daughters - younger women have an even better, fresher perspective on what they can do with their lives."
Woofables was started by two women in 2004 who owned the company as one local retail store for the first 6 years. They established the product line and brand on a local level, but found that the size of our community wasn't large enough to support the store. "It's a very niche product, we had a marketing background and were able to take the established good brand and grow it." Laura bought the business in 2010 with growth as a main goal. Today the business has transitioned to a distribution model where 10% is from the local store-front and 90% is shipped out nationally. Recently, Woofables moved to a much larger building on the Coralville strip. Laura is often asked why they even have a storefront that's open. "I feel loyal to the community and want them to benefit from these homemade goodies," she says.
Woofables prides itself on making all treats by hand, with care, and human grade ingredients. Typically, dog food and treats are made with ag feed grade, which are pretty much leftovers. Nothing is more than a week old when you buy it from Woofables. Laura poses a simple question: "If you had the choice between a toll house chocolate chip cookie vs. one that was handmade out of an oven, which would you choose?" Let Woofables spoil your pooch with natural ingredients or custom treats, with top customer service for both dogs and humans alike.

Ryan & Jeanette Roush-Krafka, Owners | Krafka Kraft
Husband-wife duo Ryan & Jeannette are both from the Corridor, but met in Mozambique serving in the Peace Corps. Serving others is something that speaks to them both and they currently enjoy contributing to charitable causes. They support organizations like the Bur Oak Land Trust and Solon Dollars for Scholars. They rely on the community to support Krafka Kraft as it's their full-time job and believe this area is a great place to live and operate a business.
Ryan turned his middle school hobby into a business in 2017 as a way to have job freedom and utilize his woodworking skills. Krafka Kraft takes a collaborative approach to creating unique, quality pieces that will be cherished for decades to come. "Instead of having to find something close to what you want, we are happy to sit down and design exactly what you are looking for. You choose everything from design, type of wood, stain, to dimensions. When clients go custom, they deserve to get the highest quality for a great value, I'm not happy until they are," says Ryan.
When you are buying "wood" furniture in stores, typically, it isn't high quality. It's particle board or MDF, which means it's not necessarily made to last. The Krafkas buy all local and sustainably sourced materials. Iowa has 10-15 native woods, so there is a good variety and popular types are readily available. If you want a high-quality, custom piece of furniture, a family heirloom to cherish, or even a charcuterie board for friends, contact Krafka Kraft to see how much fun designing your own piece can be.
Peggy Park, Owner/Operator | Heyn's Premium Ice Cream
The best way to share joy is with a scoop of ice cream. Peggy Park has a zest for life and a love for all people. Helping others, giving to charitable causes, and spreading joy is how Peggy spends her days. Heyn's Ice Cream has been Peggy's life for over 26 years. Her journey started as a 12 year old girl sneaking quarters from her dad to get ice cream. A couple season's later, the owner, Paul Heyn, offered Peggy her first job (and saved her dad a lot of spare change). "Paul played many roles in my life over the years: boss, counselor, mentor, and best friend. He taught me about patience, compassion and unconditional love for everyone, and when he passed suddenly at age 41, he left me one last gift…the business." Peggy said.
Heyn's Ice Cream started in 1989 on the Southeast side of Iowa City and still operates out of that store. They expanded to North Liberty in 2015, and have become a popular "after baseball treat." Peggy mainly employs high schoolers and many times, it is their very first job. One of her favorite things about this business is mentoring young people, teaching them what it means to have a job, being responsible and learning transferable skills. "These on-the-job experiences allow them to learn and grow more." Invest in the next generation of our workforce by supporting Peggy and Heyns with a yummy, handmade scoop (or two) of premium ice cream.
YOU can make an impact too.
You can't talk to these local business owners without feeling their passion for their business, their love for the community and their desire to give back. Starting a small business takes a lot of grit and sacrifice. Take the time to be intentional about how and where you spend your money. When you support local small businesses, you reap many rewards including supporting folks like these. Let's give back to those that enjoy giving so much to our community.
All posts are the sole opinions of the author and are not sponsored by Think Iowa City. For information on how to become a contributing writer, contact Clarissa Kane.