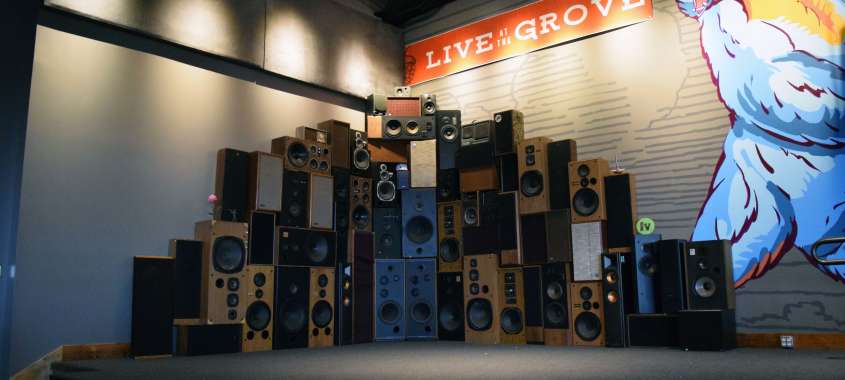 Microbreweries have seen massive growth in Iowa over the last several years. In January of last year Iowa was home to 73 craft breweries. Two months later, Big Grove Brewery in Iowa City became another.
While Big Grove's first location opened in Solon, some could argue that its heart has always been in Iowa City. The business adopted the motto: "Our craft we prize and our roots we will maintain" in honor of the city's historic brewing heritage. The owners and staff are committed to creating a product all Iowans can be proud of. One manager at the Iowa City location stated that the business's vision could be summed up by saying "everything we do is for Iowa."
It would appear that Iowans can get just about everything they could dream of and more from this multipurpose space. Rather than being an adult-focused venue, Big Grove strives to serve as an all-ages space with activities and areas to match. A lofty goal to be sure but quite manageable in their massive space which served as a lumberyard warehouse in years previous. A lengthy island bar divides the main area upon entering. Indoor seating includes bar stools around the perimeter of the bar, booth seating along the wall with large glass windows looking into the brewery itself, and low- and high-top tables adjacent to the food counter and stage. There is a bit of a hipster feel to the tin ceiling above the main bar and the stack of old-school speakers in the corner of the room marking the stage area.
Once outside, patrons can enjoy fire pits and an abundance of hanging lights that create a cozy atmosphere perfect for cool nights. Large planter boxes help break up seating areas and provide an illusion of privacy to patio customers as well as adding some natural plant life to the space. Next to this area is a fenced-in green space perfect for young children who want to run around or for people wanting to make use of the disc golf equipment. While parking is limited at this venue, Big Grove does have several bike racks for customers. Staff here say that biking - and the sustainability it helps promote - is a passion for them. The brewery strives to be both a starting and ending location for cyclists in the area.
Big Grove aims to serve all of its patrons with a wide variety of programming and activities, including: salsa night, history lessons, workout crawls, free live music and trivia. The venue even hosted juggling lessons last year. This summer, Big Grove looks forward to expanding its patio and adding more child-focused elements to the space once the new Riverfront Crossings Park is completed.

Keeping a community focus, Big Grove also strives to make an impact locally. Their Big Grove for Good initiative is a collaboration with area nonprofits that helps raise funds to advance the missions of nominated charities. A portion of Taproom sales are donated to a different nonprofit organization every other Tuesday.
All of this aside, what if you just want a good beer? The brewery currently has 25 different beers available, including their wildly popular Big Grove IPA. Make sure to grab some grub while you're here to wash down that beer. You can find everything from brewery classics like wings to international street food options such as German Jaegerwurst Sausage and Banh Mi. Whatever your interest or craving, Big Grove is sure to satisfy it. This place is a must-stop for craft beer lovers and family diners alike. 
Whether you want to support a local business, explore a unique drinking and dining space, attend an event, or help raise funds for your favorite charity, Big Grove Brewery can help you out. Make sure to add it to your list of stops the next time you visit Iowa City.
All posts are the sole opinions of the author and are not sponsored by Think Iowa City. For information on how to become a contributing writer, contact Clarissa Kane.