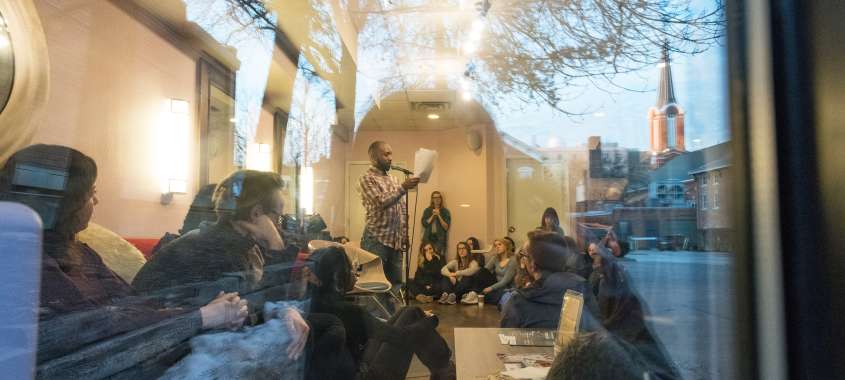 April is right around the corner. That means a few of my favorite things - warmer weather, longer days and…Mission Creek Festival.
Mission Creek Festival is a gem of an event produced by the Englert Theatre hosted in venues all over downtown Iowa City. It is six days packed full of literature, music, art, culture and community connection.  It will feature powerhouse headliners like Mitski, Jenny Lewis and John Moreland alongside local artists like Elizabeth Moen. It will bring Iowa City locals out and welcome visitors in. It's one of my favorite weeks of the year and it all happens in my home.
There are many ways to get involved Tuesday, April 2 - Sunday, April 7. Never experienced it? Here are some pro-tips on the week:
Try the free stuff. This community event offers so many free events! One o the most notable is the Lit Walk on Friday night.  It features curated readings from authors in downtown businesses.  You can catch a poet in your favorite clothing shop, a novelist in your favorite coffee shop or a breakout writer in a local eatery. 
Expose yourself to something new and unexpected. I'd encourage you to find something that seems interesting and jump in. You'll learn something and likely meet some great people in the process. There is nothing like art to get an unexpected cast of characters in a room all experiencing something together.
Ready to jump in head first? Buy the pass. This non-traditional festival offers a traditional festival pass structure that gains you access to all events throughout the week and guarantees you entry at the Englert performances. Best of all, it allows you to try things that you may be unsure about and jump in and out of all the great happenings through the week while still ensuring you get to see your favorite shows.
For more info on line-up, schedule, and tickets, visit MissionCreekFestival.com.
All posts are the sole opinions of the author and are not sponsored by Think Iowa City. For information on how to become a contributing writer, contact us.