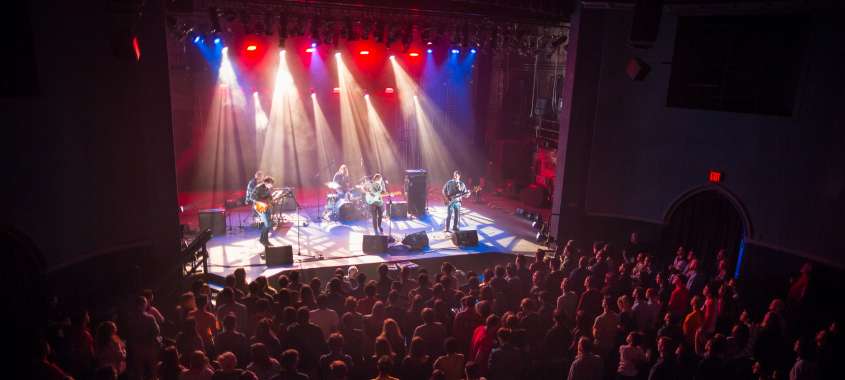 Photo credit: Bill Adams, courtesy of Mission Creek Festival
It's April in Iowa City. The month that teases us with moments of sunny warmth and flowers sprung fresh from the ground, and the next minute we have gale force winds and three inches of snow. Planning an outdoorsy weekend this time of year is a risk. So, what is a family with cabin fever to do? I suggest the Mission Creek Festival.
Since 2006, Mission Creek has curated the best from the worlds of literature, performance and community-building, and offered these experiences in intimate venues throughout the downtown Iowa City area for a six-day period each April. Events are primarily indoors, so no fear of inclement weather, and yet moving from show to show provides a new way to take in the vibrant downtown environment. Mission Creek co-founder, Andre Perry, agrees.
"We really encourage people to see the things they want to see (at Mission Creek), but we also want them to attend performances and events they didn't expect. We hope people will take the opportunity to bounce from venue to venue, engage with the community, and be reminded that Iowa City is a really fun place. We like to think of Mission Creek as the kickoff to the summer season downtown," he says.
While many festivals feel like they are only for 20-something hipsters, Mission Creek's jam-packed schedule of performances, discussions, lectures, and fairs really does offer something for everyone. This year, I'm looking forward to seeing Jamila Woods, a Chicago-based soul singer, songwriter, poet and associate artistic director of Young Chicago Authors. She's giving a keynote reading on Saturday, April 7 and will help close out the festival with a performance set on Sunday, April 8.
My husband works in technology and is particularly interested in attending A+L+T (Art+Life+Tech) at Merge, by the Iowa City Public Library. This all-day event on Saturday seeks to "inspire and build community creativity empowered and enabled by technology."
Finding activities to entice teens can be challenging but the festival covers those bases too. My 14-year-old son loves Dungeons & Dragons and can't wait for the Comics and Zine Fair at Public Space One. My daughter is in high school, and she and her friends love to see live music. Lucky for them, Mission Creek includes an all-ages show at Gabe's, featuring underground acts from across the Midwest.
A festival pass gets you into everything, space permitting. But if you aren't ready to commit to a pass, there are many free ways to enjoy Mission Creek or just take in an event or two.  With dozens of options in this year's lineup, there's bound to be a show or event you and your family will enjoy. While the festival strives for diversity in the performers, writers, and speakers, there is one characteristic that ties them together.
"We're looking for independent voices," Perry says. "To be part of Mission Creek, you have to have established yourself as your own voice."
For visitors and locals alike, Mission Creek is a wonderful opportunity to experience the rich culture, literary pedigree, and unique community the Iowa City area has to offer.
This year's festival runs Tuesday, April 3 – Sunday, April 8. Saturday, April 7 is Community Day and features many free, all ages events.
All posts are the sole opinions of the author and are not sponsored by Think Iowa City. For information on how to become a contributing writer, contact Clarissa Kane.