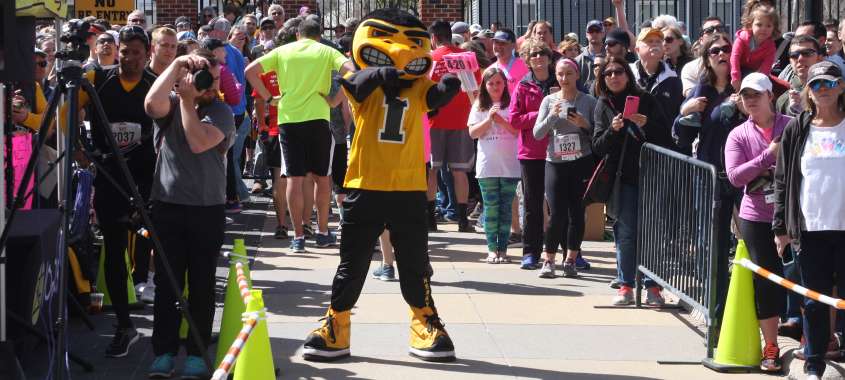 RUN CRANDIC, the first year marathon between Cedar Rapids and Iowa City, which took place on Sunday, April 29, raised $27,685 for each the Cedar Rapids and the Iowa City Community School Districts. Officials from the race presented checks to the schools on Monday.
"The response we received from this event was nothing short of amazing," said Josh Schamberger, President of Think Iowa City. "The cooperation between the cities and counties between Cedar Rapids to Iowa City with the number of volunteers is what took this race from good to great."
When Think Iowa City brought the Cedar Rapids Metro Economic Alliance and the Corridor Running Club together over a year ago, they expected around 1,300 total to compete in the marathon, half-marathon, and 5K. Just over 3,000 ended up participating. The marathon began at NewBo in Cedar Rapids, the half-marathon started at the University of Iowa Community Credit Union financial center in North Liberty, and the 5K took off from Northwest Junior High in Coralville.  All ended at the Nile Kinnick statue at Kinnick Stadium.
"None of it would have been possible without UICCU stepping up to be the primary sponsor," said Monica Nieves, Director of Special Events at Think Iowa City. "The Corridor Business Journal, Fleck Sales, Scheels, and a dozen others provided additional sponsorship that was extremely valuable."
"Every runner, sponsor, and volunteer should feel very proud of what they accomplished for our schools," added Schamberger. "They raised $55,370 that will be put to great use."
The school districts are expected to use the funds for physical education and wellness needs.
Planning for the 2019 RUN CRANDIC event is underway. The route switches around and will begin in Iowa City and end in Cedar Rapids.