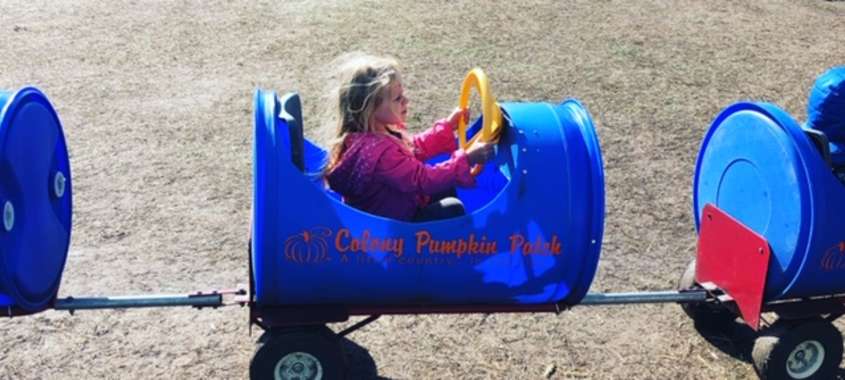 Now that Labor Day is behind us, many people are looking forward to our favorite fall activities. One of my favorite weekend activities once the weather turns crisp is a trip to the Colony Pumpkin Patch in North Liberty.
Colony Pumpkin Patch opens for the season on Saturday, September 21 and I know my four year old daughter is excited. Not only does she love to wander the patch, but there are many other activities, including the corn maze, barrel train, zip line, bounce pad, corn box, corn cannon and slides. You also can't leave without catching a hayrack ride on the weekend. You know your children had an autumn day well-spent when they come home with a pound of corn kernels in their clothes and a wagon full of pumpkins. The annual Fall Festival on October 5 brings food, vendors, and music in addition to the usual weekend fun.
Looking for an adult-friendly fall activity? The patch has that too. The flashlight corn maze runs Friday and Saturday nights in October until 9:30 pm and provides some pretty spooky fun.
One of my favorite parts of the patch is the beautiful display of pre-picked pumpkins, gourds, and straw bales available for purchase. I could browse the beautiful bins of orange, green, and white pumpkins for hours. The display also makes the perfect backdrop for some fall snapshots.
The season runs from September 21 through October 27; however, the patch is open weekends through September 8 for pick your own sunflower and family activities—a new addition this year.
Weekend admission for ages 3 and up is $8, weekday admission is $6, and flashlight maze admission is $7. A season pass is available for $24. Coming to shop doesn't require admission.
Looking to fill your weekends exploring all the area patches? Here are other options!
Wilson's Orchard, Iowa City – Wilson's Orchard is a u-pick apple orchard; however, there are also pumpkins available for purchase during the fall. You can also enjoy a tractor ride and all of the delightful apple cider, apple turnovers, and apple pie at the shop.
Bloomsbury Farm, Atkins – Bloomsbury Farm is huge and can easily provide an entire day of fun. Come enjoy the pumpkin patch, maze, corn box, and hayrack rides, as well as the pig races on weekends. The Pumpkin Grill and Café provides a large menu of food options.
Bart's Farm and Pumpkin Patch, Marion – Bart's Farm is a u-pick pumpkin patch and also has a barn full of animals and provides pony rides on weekends. It's a great, cozier option to check out up north.
Kroul Farms and Bass Farms, Mount Vernon
Allen's Orchard, Marion
Sass Family Farm, Riverside
All posts are the sole opinions of the author and are not sponsored by Think Iowa City. For information on how to become a contributing writer, contact us.