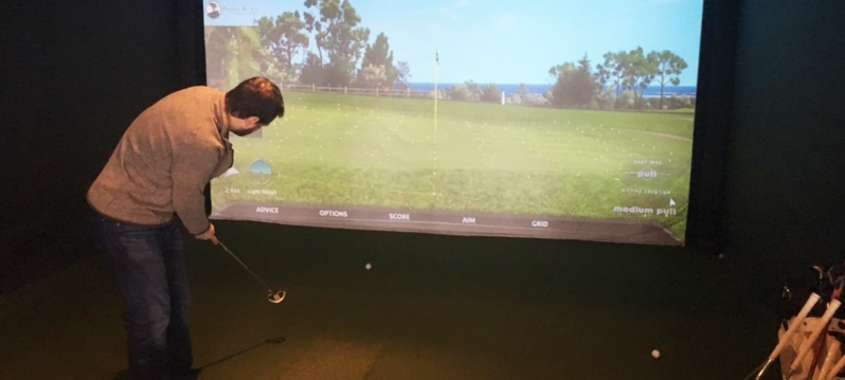 Johnson County is the second-fastest growing county in Iowa - in addition to more people moving to the area, there are increasingly more options for entertainment. North Liberty's The Leaderboard is one such example. This indoor golf simulator bar opened this year, providing a new hangout option for groups of friends and family. If you have out-of-town visitors coming and are looking for something to do, check out this locals-approved spot!
The bar's focus is the five PGA endorsed golf simulators with approximately 40 different course options. The sawgrass option gets high marks from my indoor golf enthusiast husband. Four of the bays have 15 foot wide screens and rent for $40 per hour. The last bay is a private party room with a larger screen, TVs and seating for 12. Guests are encouraged to bring their own clubs, but clubs are available for rent as well.
If your whole gang isn't into golf, they'll still have a good time here - there are many other activities at the bar, including darts, pinball, pool, skee-ball, Fortnite and Call of Duty. There are 24 TVs, so it's also a great spot for watching a major sporting event like the Masters, March Madness or the opening day of baseball - the bar will run drink specials specific to the event.
The full bar has 16 taps and happy hour runs Monday through Friday from 3-7pm, featuring $3 domestics, wells and calls. Food trucks set up in the parking lot on weekends, and customers can also bring their own food or order from partner vendors that will deliver. For locals, the bar also runs weekday golf leagues.
Iowa City also offers an indoor golf experience at the Graduate's Topgolf Swing Suite. It's also a great space to host a party and watch sporting events. Food and drinks are available from Poindexter Coffee and Gene's on-site.
If you're looking for something new and a place to spend some free time, both spots are worth a visit. With the continued growth in our favorite place in Iowa, I can't wait to see what other offerings make their home here.
All posts are the sole opinions of the author and are not sponsored by Think Iowa City. For information on how to become a contributing writer, contact us.