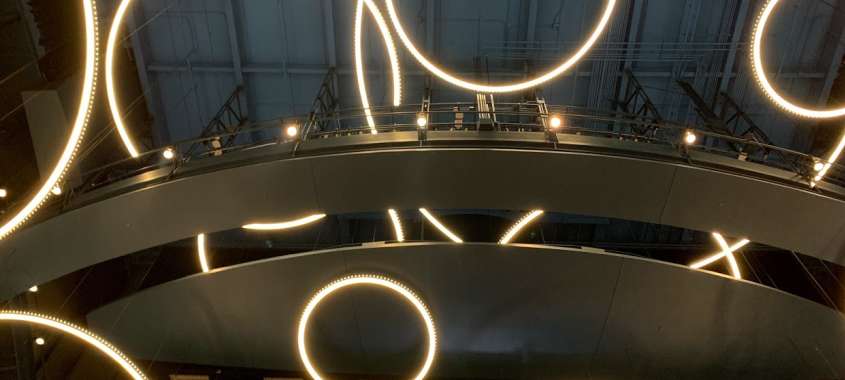 Hawkeyes and visitors flock to the Iowa City area and its Curious Communities to enjoy its unique arts scene, which includes live performances. As home to the University of Iowa, there are many options for taking in both student and professional productions. Here's a roundup of one local's favorite performance venues. Keep these on your radar as winter approaches and you're looking for some indoor fun.
Hancher Auditorium
Hancher is considered the cultural hub of the University of Iowa, presenting world-renowned dance, music and theatre productions, including Broadway shows. Recent sensations include the likes of legendary singer Diana Ross, Hamilton's Leslie Odom Jr. and Tony award winning musical numbers like Rent. In addition to headline entertainment, don't miss some of its salivating culinary experiences – including a special Brunch with Santa. To view the 2019-2020 season and purchase tickets, visit hancher.uiowa.edu.
The Englert Theatre
Since 1912, the Englert Theatre has been providing Iowa City with a one-of-a-kind entertainment venue. Today, it is a cozy community arts center and performance space, featuring a variety of live shows from music to dance and comedy. This space is truly special as it gives patrons a historic theatre experience that is inviting and uniquely intimate. You really won't find another space like this in the area.
Voxman Music Building
Voxman Music Building is the relatively new home to the University of Iowa School of Music. This breathtaking building plays host to more than 350 live performances and presentations each year, many of which are free. The space opened in 2016 as the school's new building after the devastating 2008 flood. It features a jaw-dropping concert hall with a grant organ and ruby-red recital hall. Genres range from music and dancing, to theatre and opera. Visit arts.uiowa.edu/events/music to view the list of upcoming performances.
Coralville Center for the Performing Arts
The Coralville Center for Performing Arts features community plays and musicals, as well as concerts, recitals and shows. In December 2019, the theatre will feature the beloved musical Annie.
Old Creamery Theatre
The Old Creamery Theatre is a professional theatre located in the historic Amana Colonies. It's Iowa's longest running professional theatre company and features a lineup of corky, fun shows you won't find in any other local shop. Holiday performances include Not Another Christmas Letter! The Musical and Junior Clause.
These are just a few of the great performance venues in the Iowa City area. Be sure to plan your next visit to experience these and more in this Collection of Curious Communities!
All posts are the sole opinions of the author and are not sponsored by Think Iowa City. For information on how to become a contributing writer, contact us.