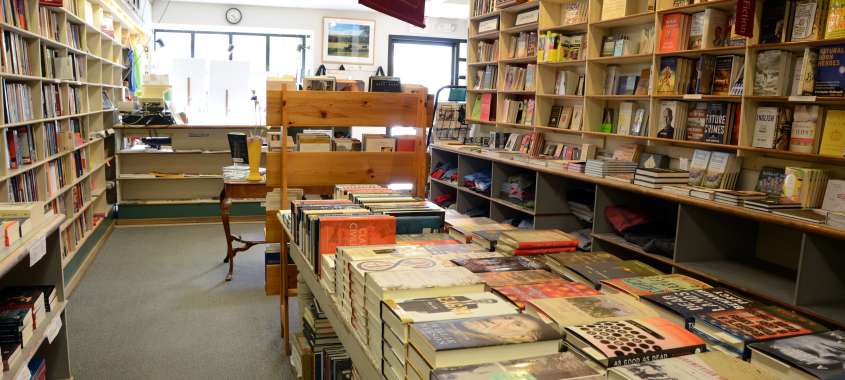 With Iowa City being a UNESCO City of Literature and home to the Iowa Writer's Workshop, it only seems natural that we would be chock-full of unique establishments to find your favorite author's work.  
Prairie Lights (15 S Dubuque St)
Undeniably the most well-known of the Iowa City booksellers, Prairie Lights has been slinging works of world famous authors since 1978. The three levels of store boast all topics from children's literature to art history to science writing. The store frequently hosts the top names in the literary world for free readings on the second floor for their Live From Prairie Lights series. Your chance of meeting an author at Prairie Lights is akin to meeting a politician at the Iowa State Fair, it's more of an inevitability. Pop into the Prairie Lights Cafe on the second floor for some of the best coffee and espresso in town, and settle in to a new book, journal or conversation.
Haunted Bookshop (219 N Gilbert St)
Located in the Northside neighborhood on Gilbert Street, the Haunted Bookshop contains "over 50,000 used, rare, out of print and antiquarian titles in over 50 subject areas."  The shop has had many homes since its inception in 1978, and is now located within the historic Wentz House, built in 1847. Stop by to wander through the labyrinth of bookshelves spanning both floors of the two story stone house. If you settle into a reading chair in Virginia's room or Anna's room upstairs, keep an eye peeled for Nierme - the store cat - who enjoys meeting new visitors.
More than just a bookstore, Iowa Book has served the University of Iowa for decades both as a bookstore, but also a multi-purpose retail store. It's been a convenient fixture for students who need textbooks, office supplies, Iowa gear and other university merchandise. Located directly across from the University of Iowa Pentacrest, Iowa Book is at the epicenter of University of Iowa activity.
Uptown Bill's (730 S. Dubuque St)
Uptown Bill's was named for Bill Sackter, a disabled Minnesotan man who was mentored to independence by a University of Iowa grad student, and eventually started Wild Bill's Coffee Shop within North Hall. Uptown Bill's is a spin-off of the coffee shop on South Dubuque Street and serves as a coffee house, performance venue, community meeting place, and bookstore.  Bill's Bookmart sells used paperbacks ($2.00) and hardbacks ($3.00) in a variety of topics and styles including classics, fiction, autobiographies, spirituality and non-fiction.
All posts are the sole opinions of the author and are not sponsored by Think Iowa City. For information on how to become a contributing writer, contact us.