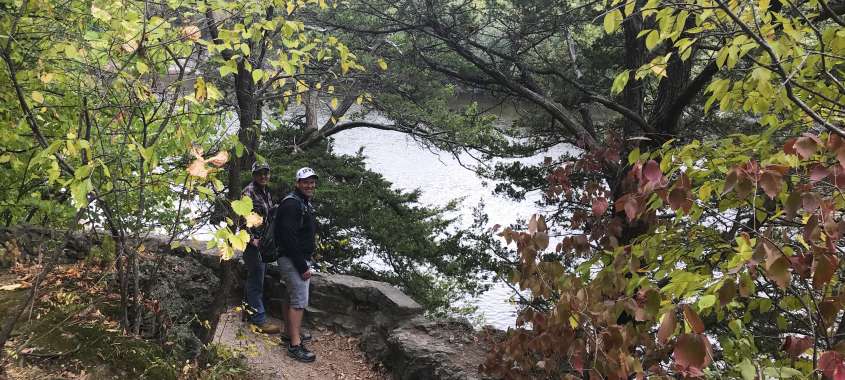 Each season has its own nostalgia and there are great activities to invigorate your fall senses. From apples, pumpkins, football and rich beer aromas to changing leaves and spooky costumes—each month has a different event that decorates the season, just as your grade-school teacher decorated the classroom chalkboard with reflective monthly décor to mark the season. Here are five activities to enjoy this fall.
September: Wilson's Apple Orchard
For many locals, the Wilson's Apple Orchard is a tradition. Its site is picturesque: rolling hills are dotted with apple trees and a central valley is divided by Rapid Creek. Visitors line up to ride the tractor ride and pick apples to fill their large wooden baskets. Aromas from the barn where fresh oven hot apple turnovers and apple pies are being made are sure to bring you into their shop where you can find an assortment of apple products from apple cider to apple donuts. Favorite apples of mine is the Honeycrisp and Song of September.
August - November: Hawkeye Football
Fall weekends transition into a sea of black and gold with fans flooding the streets lining Kinnick Stadium and the University of Iowa campus. For many, Hawkeye football is a season in itself—"weather talk" is replaced with football. Tailgating is the pre-game discussion and excitement for the Iowa victory. And for others, it's the event with food and traditions more than the game. Festivities include tailgate parties with games, music and food. Parking lots lined with cars and grills feature barbecues, chili and picnic staples. Tailgating favorites include the Finkbine Lot and Myrtle Lot.
October 5: Northside Oktoberfest
There is a rich beer history in Iowa City and what better place to experience Oktoberfest than the Northside Oktoberfest. Located next to the Brewery Square building, the outdoor festival features over 40 booths on the streets of the Northside historic buildings. The crisp fall air, cheerful folk music, traditional food and of course, beer, are a heritage to this annual event. Pace yourself, and don't forget to buy tickets ahead of the event.
October - November: Fall Scenic Views (Kent Park, Palisades, Squire Pointe)
Cooler temperatures create a comfortable hiking weather with warm woolen sweaters, scarves and the sound of crunching leaves under your boots. Vibrant combinations of red, yellow, purple, black, blue, orange, magenta and brown hues decorate the autumn foliage. The Iowa City area's rolling hills create varying elevations of color. For optimal viewing by a slow car ride, Kent State Park has a ring road that lines its hillside park overlooking the valley below. By foot, Squire Point has trails that walk along the Coralville Lake with views from its tree-lined shores. For an elevated view, a hike up the cliff-lined trees of Palisades-Kepler State Park have brilliant red and yellow autumn colors of maples along the Cedar River.
October 25-26: Halloween in the Ped Mall
Pumpkins are no less a fall staple than Trick-or-Treat. But costumes are not lost for adults particularly in a college town where a costume party is a customary celebration. Each year, downtown Iowa City is disguised in ghosts, monsters, celebrities, and popular fiction characters. Students, locals and visitors show off their costumes in the ped mall where many frequent nearby bars and evening restaurants. The custom is held the Friday and Saturday evenings before Halloween and whether dressing up yourself, seeing others costumes is sure to be scary.
All posts are the sole opinions of the author and are not sponsored by Think Iowa City. For information on how to become a contributing writer, contact us.