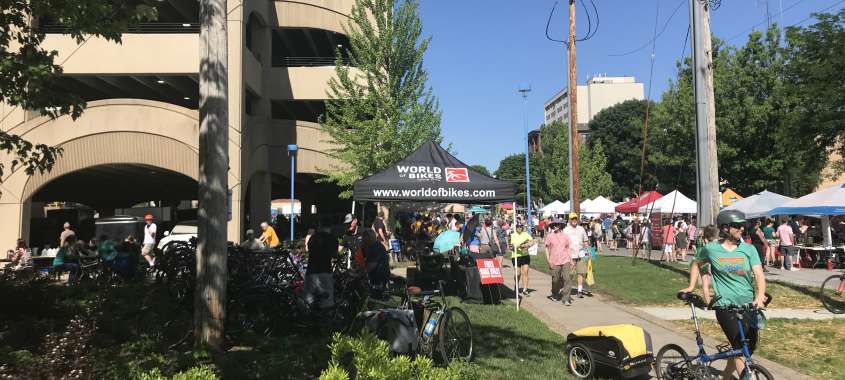 Iowa City is a one-of-a-kind place with the welcoming "Iowa nice" demeanor you expect paired with an artistic, expressive, "come as you are" attitude. This mentality also rings true at the Iowa City Farmers Market. Even if it's your first time, the market feels so inviting, like you're meeting up with a few hundred of your closest friends to do some local shopping. Grab your reusable bags, slap on some sunscreen and head to the Chauncey Swan Ramp in downtown Iowa City on Wednesday evenings and Saturday mornings May through October for the farmers market.
Drivers, fear not, there is plenty of on-street parking surrounding the venue. Cyclists will love all of the bike racks nearby. And hey, if you're coming to the Saturday market, World of Bikes provides a free bike valet. If you live or your accommodations are somewhere within walking distance, then lucky you! I'm envious of your scenic stroll to the market.
If you're feeling hungry when you arrive, there is a wide selection of prepared food vendors to fill up on before you start shopping. I can pretty much guarantee that anything you get from El Bandito's will be delicious. For those of us with a huge sweet tooth, try The Waffle Bar, a new vendor in 2018. Cream cheese on an authentic Liege style waffle? Yes please. Fancy yourself a pancake person? Grab one from Griddle Me This with toppings like blueberries and pecans.
Now it's time to shop! One my favorite parts of the Iowa City Farmers' Market is its location in and around a parking ramp. In the summer, the ramp provides refuge from the blazing sun and offers a cooler place to shop. Once inside and after your eyes adjust, you'll see that the vendors circle the first floor of the parking ramp. I prefer to grab a cup of coffee from Wake Up Iowa and do a round or two of browsing before making my selections.
Since the farmers market season spans from May to October, you get to enjoy much of the produce Iowa yields each year. Start the season with lots of spinach and rhubarb, followed by tomatoes and famous Iowa sweet corn and finish with fall favorites like kale and pumpkins, just to name a few.
Be sure to stock up on other foods like meats and cheeses, farm fresh eggs and as many different types of bread that you can think of.
The Iowa City Farmers Market offers more than just food! Artisan vendors showcase their best every week. Pick up some locally made soap, clothing, jewelry, photography, original artwork and more. In fact, at certain markets this season you could even walk out with your very own scarf woven from alpaca fiber from vendor Alpaca Fiber Arts.
Market Music adds another fun layer to the event. Groove to the tunes of local musicians at each Wednesday and Saturday market.
Be sure to bring your reusable bags so you can tote your market goodies home. You won't find any plastic bags supplied by market vendors. Thank you for the sustainability efforts, City of Iowa City!
The Iowa City Farmers Market is a true gem in the Iowa City area. If you find yourself here during the season, it's something you must experience.
All posts are the sole opinions of the author and are not sponsored by Think Iowa City. For information on how to become a contributing writer, contact Clarissa Kane.