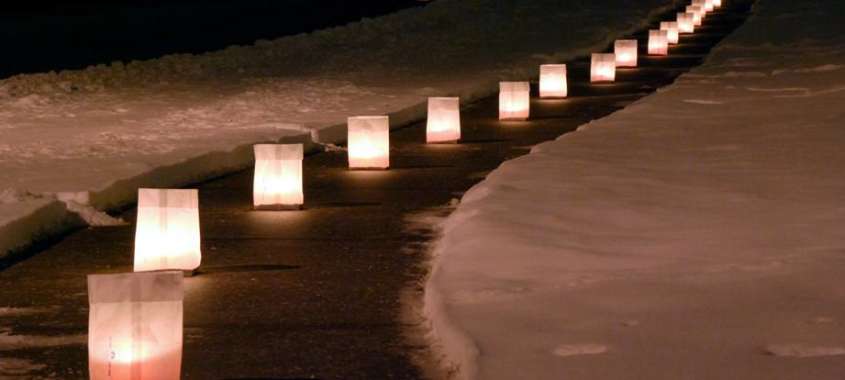 December in the Iowa City area is my family's most favorite time of year. Yes, the teenagers are eagerly anticipating sleeping in everyday during the two week break from school, but it's so much more than that. While they may have outgrown the big man in the red suit, there are still plenty of other holiday traditions that get us together as a family to enjoy the festivities, take a break from our hectic schedules, and make merry during this most wonderful season.
It doesn't feel like the holidays for us until it's time for Coralville's annual Aisle of Lights. Since 1980, on the second Sunday in December, residential neighborhoods and businesses in Coralville have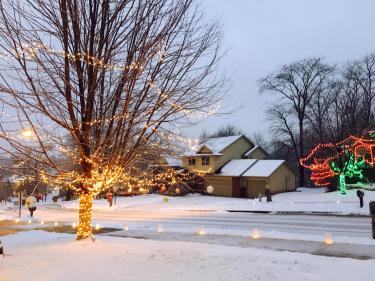 lined their sidewalks with luminarias - white paper sacks, filled with sand and a votive candle - creating miles of lighted walkways throughout the town. Many homes along the route are decked out with lights and yard decorations, with some set to music, to add to the merriment. This year the event takes place on December 9 and the City of Coralville, Iowa River Landing and other area businesses and organizations have several activities scheduled throughout the day to entertain revelers of all ages.
One of our favorite family activities during the holidays is to attend one of the area's many terrific theatre productions. Lucky for us, City Circle Theatre Company's production of Annie is running in December at the Coralville Center for the Performing Arts. There are several evening and matinee shows from December 6 - 8 and December 13 - 15.
Downtown Iowa City is a treasure-trove of holiday activities all season long. We love to admire the architectural wonders of the Gingerbread House Competition. This year, it's happening on December 8 at the Graduate Hotel so go check out the edible structures, or enter one yourself if you're the crafty type, and then pop over to Coralville for Aisle of Lights.
My kids start practicing their Christmas piano pieces right after Halloween in order to play in the Nancy Cree Keyboard Learning Center's Holiday Showcase at the Old Capitol Town Center. Come enjoy some holiday music at this free event on December 14 and 15 in the food court. After the kids perform in the Holiday Showcase, we'll enjoy a horse drawn carriage ride through the Downtown District and I might even get them to hunt for an elf or two while we do some Christmas shopping.
Speaking of shopping, we love to buy local and there are several craft and vendor markets to find those special gifts for family and friends. On December 7, we'll start the morning up at the North Liberty Community Center's Holiday Vendor Fair and then zip downtown to Merge for Not Your Mother's Craft Fair. We're sure to find something special for even the most discerning person on our list. 
In this as in every holiday season, we will enjoy selecting gifts for those we love, but more than anything we will treasure all the special traditions on which our family has built much-loved memories. Happiest of holidays to you and yours!
This article was originally posted November 2018 and has been updated with current information. All posts are the sole opinions of the author and are not sponsored by Think Iowa City. For information on how to become a contributing writer, contact Clarissa Kane.