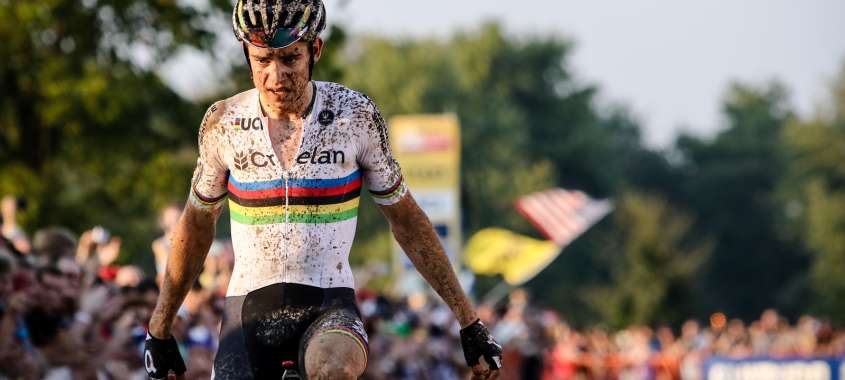 The Iowa City/Coralville Area Convention & Visitors Bureau (CVB), City of Iowa City, Johnson County and Jingle Cross are pleased to announce that Iowa City and Johnson County have been again selected by Union Cycliste Internationale (UCI) as a Cyclo-cross World Cup race site for the 2017-2018 season.  Most recognized in road cycling for organizing the Tour de France, Giro d'Italia, and Veulta a Espana, the UCI is the governing body in the sport of cycling and headquartered out of Aigle, Switzerland.  Iowa City will kick off the 2017-2018 World Cup season at the Johnson County Fairgrounds on Saturday, September 16, 2017. Waterloo (Madison), Wisconsin will follow with the only other North American race on Sunday, September 24, 2017.
"It is very exciting that we have again been chosen for the World Cup circuit.  This back-to-back selection is a complete testament to the strong support of the Iowa City and Johnson County community." said Josh Schamberger, one of the organizing officials and president of the Iowa City/Coralville Area Convention & Visitors Bureau. 
The well-known Jingle Cross race, celebrating its 14th year in 2017, will take place September 14, 15, and 17 with the UCI World Cup races occurring on Saturday the 16th.
The reaction from pro cyclists during the communities innaugrual World Cup race was highly supportive. "Today it was a new experience. Before I was really impressed by [American cyclocross] but this was the next level. It was crazy how many people were here and how hard they were cheering. It's really good to be here, and especially this race is a big gain for the World Cup. I'm happy we could do more races this year for the first time. I hope it will be more in the future also."  said Wout Van Aert, World Champion (team Crelan-Vastgoedservice).
Schamberger and Meehan delivered their formal bid to re-host in late November but were confident in their selection after 2016.  "We worked very hard to set the new standard for a UCI World Cup host city.  And based on the feedback from UCI, we believe we did just that," said Schamberger.  With this year's race taking place during a home football game weekend, Schamberger said he sees greater opportunities for attendance.  "I have already been in touch with UI Athletics about an 11:00 start to that North Texas game.  I think this will be the perfect example of how the town and gown work so closely together."  
The event is expected to attract more than 15,000 spectators and generate an economic impact of $1.2 million to the community. More information about UCI can be found at www.uci.ch.