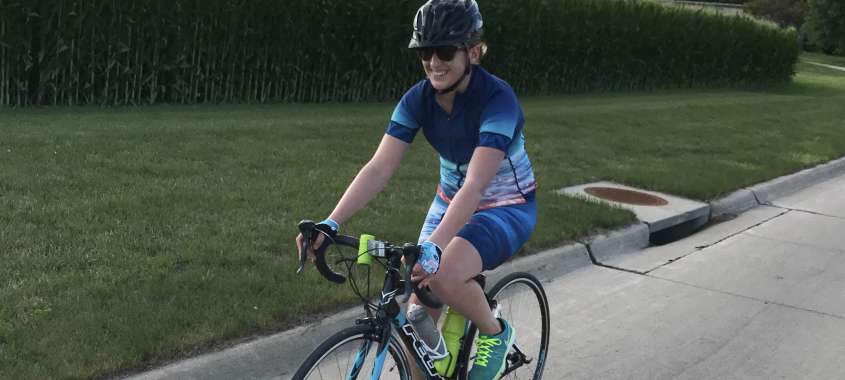 Whether you are just visiting, new to the area, or a long time resident looking for new adventure, the Iowa City area offers a plethora of coffee shops, bike trails, and places to enjoy a beer. Fortunately, many of these options are either on, or not too far off from one of the many trails that connect Iowa City, Coralville, North Liberty, and other surroundings. Coffee. Bicycling. Beer. Where can you go wrong?
A few hours spent riding is one of the best ways my wife and I spend our time. Not only do we get some exercise, which, we all could use more of, but we also spend those few hours bonding, clearing our minds, and enjoying what mother nature has to offer. Sometimes it's smooth sailing, and other times it can be a challenge. Either way, we always finish with a sense of accomplishment.
If you're just starting the day or looking for an afternoon pick me up, consider a coffee or espresso drink (I'm a fan of the cortado) at the Dingo Bar. The shop itself is pretty relaxed with steady traffic so there isn't much of a wait. It has experienced, friendly baristas who will have your coffee out to you in no time. Outside the shop, there are a good amount of colorful tables and chairs, complete with patios umbrellas if it's a hot, sunny day for a little shade. On one of those hot days, try an Affogato (ice cream with espresso poured on top) for a nice treat to cool down. Dingo Bar also offers breakfast sandwiches and paninis, and is a great way to fuel up for a few hours of riding. It is located in the intriguing, urban Peninsula Neighborhood community located just south of I-80. If you have dogs and take them to the Iowa City dog park, you might have driven past it several times without even knowing!
If you follow Foster west toward the dog park, you'll end up crossing the river which, if you head North along First Avenue, you'll find yourself approaching the Iowa River Landing. This is home to several nice establishments including 30hop craft beer bar, featuring over 90 taps and a rooftop patio, and Backpocket Brewing. I personally know one of Backpocket's tenured brewers and its staff is very friendly. The brewery offers delicious pizza which is made in a woodfired oven.
If you'd prefer to set off in the direction of downtown, follow Foster Road east toward Dubuque Street. Although parts of Dubuque Street are under construction for automobile traffic, the Iowa River Trail is a nice bicycle trail that parallels parts of Dubuque Street and will take you further into the heart of downtown.
You can find several more coffee shops (Nodo coffee, Cortado, Encounter Cafe), by heading south on Dubuque. Hit the area on a Saturday morning during the right season and you'll find the Iowa City farmers market. During your ride, expect to see several older fraternity and sorority houses, miscellaneous university buildings and dormitories, and many pedestrians who are also out enjoying the day, so please be mindful and respectful, but give them a friendly smile because hey, you're in Iowa City!
Continuing along the Iowa River Trail, you'll travel along Riverside Drive, which will give you some great scenery looking out across the Iowa River.  Keep on the trail long enough (just a few miles!) and you'll arrive to the hugely popular Big Grove Brewery. If you have a couple of friends with you, you could easily spend an entire day here! Boasting 26,000 square feet, Big Grove produces a wide variety of beers, ranging from wheats, pale ales, IPAs, stouts, and easy-drinking sours, plus plenty of seating and even outdoor games.
North of I-80 is where my wife and I spend most of our time (and where Dingo Bar typically marks our halfway turnaround point). The Iowa River Trail parallels Dubuque Street for the majority of the ride. This stretch offers a little challenge as you encounter more of Eastern Iowa's hills and several steep inclines.
Shortly after exiting Foster Road going north, you'll come across Waterworks Prairie Park. This small green space has a nice paved trail for cyclists, runners, walkers, and people who just want to spend time outdoors. You might see wildlife on or off the trails, nature photographers, and can loop yourself around as many times as you want. You can also exit the trail under I-80 if you want a shortcut back to Foster Road.
Continuing north on Dubuque street, you'll pass the self-proclaimed, world's largest wooden nickel. If you're a more experienced rider and really looking for a challenge, turn off onto West Overlook Road toward the Iowa Reservoir and Coralville Dam. While there isn't an off road trail, there is a nice wide shoulder and the roadway isn't overly busy with lower speed limits. Follow the signs for Sugar Bottom road and you're all set for a gorgeous ride.
Make your way to North Liberty and you'll find a couple of great tap rooms - Reds Alehouse and Tin Roost. Red's is one of the original North Liberty establishments and continues to be one of the most popular eateries in North Liberty, while Tin Roost is one of the newest. Both offer a wide range of taps to impress, good food, and comforting outdoor patios for you to relax after your day of riding.
The Iowa City area is full of friendly, outdoor enthusiasts with many outdoor recreational groups and clubs. So, don't be afraid to stop and introduce yourself if you're looking for someone to ride with.
All posts are the sole opinions of the author and are not sponsored by Think Iowa City. For information on how to become a contributing writer, contact Clarissa Kane.