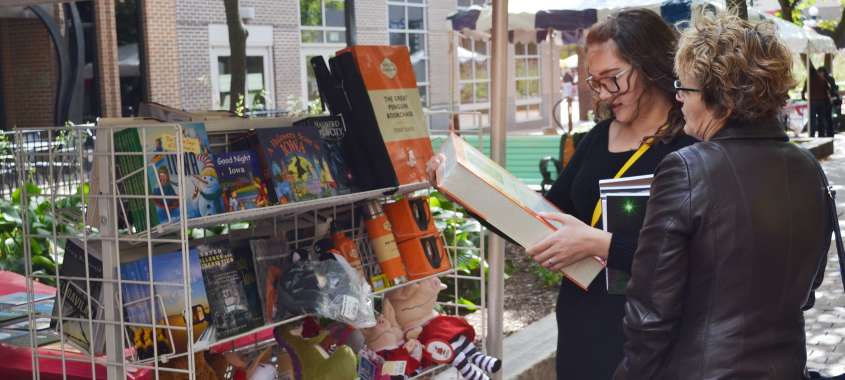 The Iowa City UNESCO City of Literature will celebrate its 10th anniversary by hosting the tenth Iowa City Book Festival Oct. 1-7, 2018. The festival will feature a mix of authors, panel discussions, workshops, a book fair and more, with programming that blends the best in fiction, nonfiction and poetry.
Long a showcase for collaborations with other area organizations, this year's festival partners include the University of Iowa's Green Room, Special Collections at the University of Iowa Libraries, the International Writing Program, the Johnson County League of Women Voters, the Englert, Iowa City Hospice and more.
The festival will begin on Monday, Oct. 1 at the Englert Theatre with Cedar Rapids native Kathy Eldon, founder of the Creative Visions Foundation, as part of the Green Room. The Green Room is presented as part of a UI course that invites innovative thinkers to bring the most important question they believe "twenty-somethings" should be trying to answer and that higher education should be trying to inform.
Each year, the festival features the public reading of a classic work of literature with supporting programming throughout the week. On Tuesday, Oct. 3, we will read Mary Shelley's classic, Frankenstein, which celebrates its 200th anniversary this year. In conjunction with the reading on the steps of Old Capitol, panel discussions and vintage films will be featured Wednesday and Saturday. 
Thursday, Oct. 4 features presentation of the City of Literature's annual Paul Engle Prize to writer Dina Nayeri. The prize, sponsored by the City of Coralville, honors an individual who, like Paul Engle, represents a pioneering spirit in the world of literature through writing, editing, publishing, or teaching, and whose active participation in the larger issues of the day has contributed to better the world through the literary arts. Nayeri is a novelist, essayist and activist who has written extensively about the life and challenges of refugees. She will receive the award at an event at 7 p.m. at the Coralville Public Library.
In addition, the popular storytelling podcast "Welcome to Night Vale," will visit the Englert Theatre at 8 p.m. Thursday. Tickets are $30 and are available at the Englert box office or at Englert.org.
Friday, Oct. 5, features a presentation by Ari Berman, one of the leading scholars on voting issues, who will present "Give Us the Ballot" at 7 p.m. at the Iowa City Public Library. The event is co-sponsored by the League of Women Voters and the University of Iowa Public Policy Center.
Saturday, Oct. 6, the biggest day of programming, will feature dozens of events including readings, panel discussions and book fair. The book fair will unveil a new Story Kiosk, a partnership between the University of Iowa Libraries and the City of Literature that prints short stories on demand, for free. Check one out at MERGE. Other highlights include:
Acclaimed rapper and actor Common will discuss his memoir One Day It'll All Make Sense at a special afternoon presentation at 2:30 p.m. at the Englert as part of a visit to Iowa City for an evening performance at Hancher Auditorium presented by the UI Lecture Committee.
Authors from other Cities of Literature will be featured at the festival. They include Sjón from Reykjavik, Sunni Overend from Melbourne, and ZP Dala from Durban, South Africa.
Politics and social engagement will feature prominently at this year's festival, include Dan Kauffman (The Fall of Wisconsin), and Silvia Hidalgo (How to Be an American), and Iowa's most recent Pulitzer Prize winner, newspaper editorial writer and editor Art Cullen (Storm Lake).
 Mystery lovers will find much to like about the festival, with Mary Kubica (When the Lights Go Out), William Kent Krueger (Desolation Mountain), Mindy Mejia (Leave No Trace) and Muscatine's own Max Allan Collins (Scarface and the Untouchable) on the schedule.
Sports fans can learn about Waterloo's improbable participation in the first year of the NBA in Tim Harwood's Ball Hawks, while Mark Wilson presents a unique look at one of Iowa's favorite sports heroes in The Way of Nile Kinnick Jr.
YA favorite Mike Mullin, author of the Ashfall series, appears at 1 p.m. in the Iowa City Public Library Teen Center to present his latest book, the domestic terrorism thriller Surface Tension.
The festival closes Sunday with a full day of events, beginning at 11:30 a.m. at Poindexter (Graduate Hotel) with "Coffee with Dan," a community conversation and panel discussion that will contextualize some of the social engagement presentations from Saturday. Tameka Cage Conley and Derek Nnuro present "The Reclamation Workshop: Our Mothers as Homeland" at 2 p.m. at the Iowa City Public Library, which will blend performance and discussion with a workshop based on Toni Morrison's Beloved.
Also featured are Reading Aloud's annual performance of favorite poems, a walking tour of literary Iowa City, a reading by Eduardo Halfon from the UI Spanish Creative Writing MFA program, and the annual Roast of Iowa City. 
The festival closes at 6:30 p.m. on Sunday with a presentation by Dr. Ira Byock about his book, The Four Things That Matter Most, presented in partnership with the Iowa City Hospice program Honoring Your Wishes. Byock will talk at the Coralville Center for Performing Arts.
Other than the "Welcome to Night Vale" event at the Englert and film screenings at FilmScene, all festival are free and open to the public.  For specific times and locations for festival events, or to learn more about programs and authors, please visit the website or follow the event on Facebook or Twitter, where we will share news of new programs and authors as they are confirmed.
Iowa City was named a UNESCO City of Literature in 2008 in recognition of its rich literary heritage culture. It is one of only 28 Cities of Literature worldwide, and one of only two in the United States, to hold this honor.