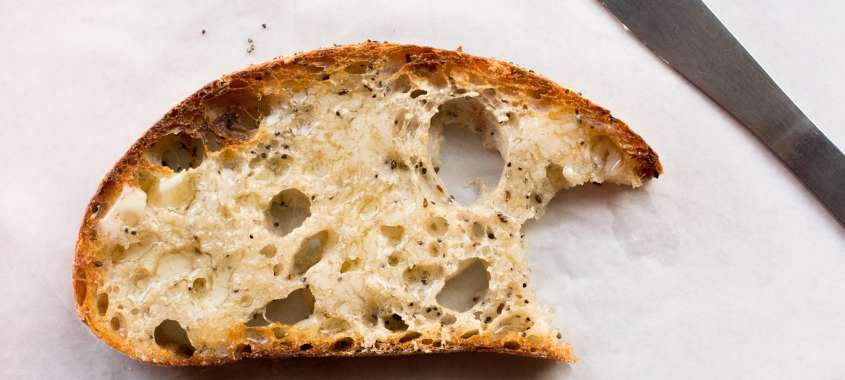 Image credit: Bread Garden Market Facebook page
There are two kinds of people in the world. There are cake people and there are pie people.
I'm a cake person. Just thought you should know my extreme pastry biases before I recommend my favorites. Even after trying to eat my way through Iowa City one buttery croissant at a time, visiting my old favorites, I still ended up sampling all of the cake.  Somehow, even before noon I was buying cake at every place that I visited. Don't underestimate the power of cream cheese frosting.
My top picks for breakfast pastries: Ride your bike to Deluxe. Here's the thing - you won't be able to find a parking spot, you'll need the exercise anyway after eating half their menu, and you can pretend you're in Paris with their selection of Parisian delicacies. It's one of the best brunch spots in Iowa City.
In the pastry category, savory options are sometimes overlooked, but the quiche is wonderful with a buttery, flaky crust and prepared like I'd expect from a French grandmother. I'm daydreaming obviously, but it's yet another reason I love Deluxe; the vibe is quaint and calming. Another favorite: the classic croissant. It's is exactly what you want: crispy and flaky on the outside, chewy and light on the interior.  
If you can't skip the cake: The almond strawberry petit four was one of the best bites of cake I've ever had. Get a few - if you're like me you won't want to share. I'll be supplying these at my next dinner party. Tres chic. Almond is the new chocolate, cake-wise. Spread the word.
Vegan and Healthy-ish: New Pioneer Co-op features one of my favorite slices of cake on the planet, and it's vegan! You'd never know if put up to a blind tasting of other cakes. I suffer from mild lactose intolerance and attempt to avoid milk and butter in large quantities. The vegan chocolate chip cookie is consistently delicious - crispy on the outside and chewy on the inside.
Let them eat cake: Vegan Carrot Cake. This is actually the cake I picked out as my wedding cake. I pretty much get a slice of this every time I go to New Pioneer Co-op. (If you're ever in Cedar Rapids, the Northside location has one of the best salad bars in town.) Come for the salad bar, leave with cake. You'll see me there four times a week.
Bread: Is it any surprise that a place called Bread Garden boasts some of the best loaves in Iowa City? The likelihood you've tried Bread Garden bread if you've spent any time in Iowa City is high. The store sells in bulk to some of the best restaurants in town.   
But cake: I almost always just go with their traditional layer cake if I'm feeling naughty, but what I love the most about the Bread Garden market is the smoothie and juice bar.
All posts are the sole opinions of the author and are not sponsored by Think Iowa City. For information on how to become a contributing writer, contact us.