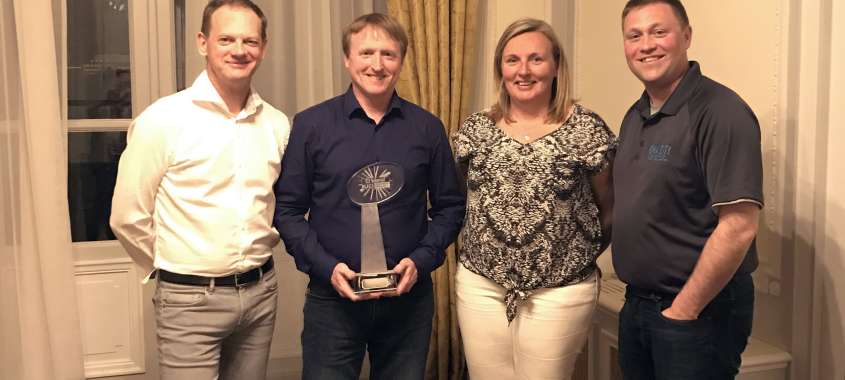 Iowa City's Jingle Cross was awarded the Best Cyclo-cross UCI World Cup of the 2017/18 season. Teams, riders, media, sponsors and cycling's international governing body, the UCI (Union Cycliste Internationale) have voted the popular North American event as the top event of the global series. Jingle Cross topped nine other races and is only the second event outside of Europe to be honored with the award.
"It is an incredible honor for Jingle Cross to be named the Best Cyclo-cross UCI World Cup," said Promoter and Race Director John Meehan. "This award speaks to the dedication of Jingle Cross staff, volunteers, sponsors and the great people of Iowa City and Johnson County. Their hard work and love of cycling over the past 15 years has enabled Jingle Cross to grow into one of the premier cycling events in the world. We can't wait until September and the opportunity to again bring world-class cyclo-cross to North America."
The 2018 edition will be held September 28-30, 2018, at the Johnson County Fairgrounds. Jingle Cross will be the second stop in the Telenet UCI Cyclo-cross World Cup, following the opening round in Waterloo, Wisconsin. Known for its challenging course, fun atmosphere, amateur racing and local hospitality, Jingle Cross again aims to be the highlight of the World Cup season.
"Jingle Cross and the UCI World Cup perfectly embodies the high energy, fun and supporting culture of Iowa City," said Geoff Fruin, City Manager of Iowa City. "It has been an honor to welcome the world's best athletes to our community and we love celebrating and showcasing the sport to the world. Being recognized as the premiere Cyclo-cross event in the world is a humbling honor that we accept with great pride. We look forward to continuing to raise the bar for the sport with each future Jingle Cross that we host."
In addition to the World Cup event, there will be a full schedule of amateur races, a gravel ride, product expo, local vendors along with activities for the entire family. Packed with events, Jingle Cross delivers three days of action and excitement. All proceeds from the races benefit the University of Iowa Stead Family Children's Hospital.
For more information on the Iowa City Jingle Cross World Cup please visit jinglecross.com.