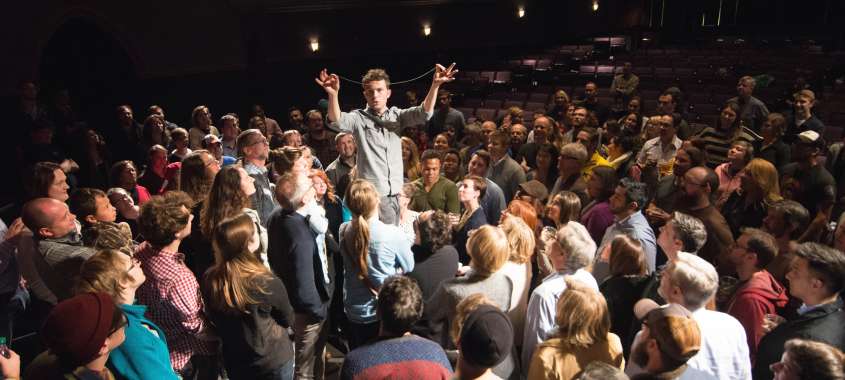 Photo credit: Bill Adams
When we think about the phrase "witching hour," our first thoughts might be of witches or the supernatural - an easy assumption with Halloween just around the corner. In Iowa City the phrase is frequently linked to the annual Witching Hour Festival focused on "exploring the unknown, discussing the creative process, and presenting new work."
The fourth annual Witching Hour Festival is coming up October 12 - 13th and - true to its namesake - programming will last up until the witching hour (midnight) on both days. Dedicated to art and the study of the human condition, the festival features everything from film screenings to musical performances to workshops on a variety of topics.
The festival features more than 20 guests who will perform, read discussions, conduct workshops or present on various topics. Similar to other downtown festivals, programming will be spread throughout multiple venues - the Englert Theatre, The Mill, Gabe's, the Iowa City Public Library and MERGE, which will each host different elements.
Whether you find yourself wanting to catch a performance by comedian Janelle James or want to join a workshop to fine your inner queen, one and two-day tickets are still available. If you are only interested in attending one or two events, you can also buy single event tickets. All events hosted at the Iowa City Public Library are free and open to the public.
I'm excited to see what 2018 brings - the energy, creativity and inspiration. So join the artists and thinkers - perhaps with a coffee in hand for those late-night events - in downtown Iowa City next month.
All posts are the sole opinions of the author and are not sponsored by Think Iowa City. For information on how to become a contributing writer, contact Clarissa Kane.