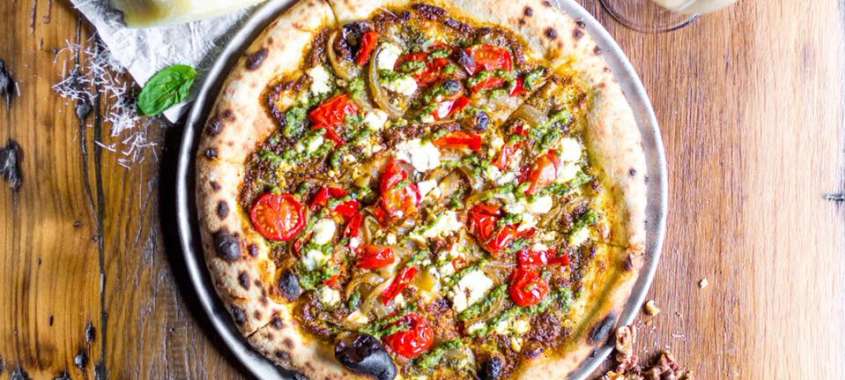 Photo pictured: Marquee Pizzeria
If you're someone with food allergies, then you know how hard it can be to eat out when you're on the road. After traveling two weeks during the month of June, my wife, who has a gluten allergy, and I remembered just how hard it can be to trust a restaurant's attention to detail in food preparation, especially when it comes to taking precaution to food cross contamination. You'll find that the Iowa City area has dozens of options when it comes to choosing a place to eat. Below you will find a few of our favorite places to grab a bite that works for your food sensitivity and overall, offers great food and atmosphere that will appeal to your company as well.
Please note: although we have had great successes with these establishments and have returned numerous times, be sure to ask if you have questions!
Our most visited restaurant in the area has to be Monica's in Coralville. Although they specialize in Italian specialities and brick oven pizza, they offer a little bit of everything. So, no matter what you or your party is craving, they are bound to have it. Upon being seated, request a gluten free menu and you will likely be asked right away if you'd like a gluten free roll. In a place that offers amazing, complimentary bread to every guest, this will keep you from salivating all over your friend's bread (served with oil or cinnamon butter)! The gluten free rolls do cost $1, but it's a dollar well spent. We typically order the speciality pizzas, most of which are named after local sports athletes who have attended the University of Iowa. I prefer the white sauce bases and like to choose my own toppings to fit my mood while my wife prefers more of the veggie and spicy pizzas. The gluten free menu also offers a wide variety of pasta dishes, paninis, salads, and a plethora of side options. The restaurant has an extensive drink menu, too, with countless wines and lots of good beer on tap, making Monica's an excellent choice for your dining experience. Go on a Friday or Saturday night and the place will be packed, but the service is still fantastic.
If you're looking for something a little more niche, Red Vespa in Solon specializes in authentic Neopolitan pizzas, complete with house-made mozzarella. When we first discovered Red Vespa, I think we ate there three weekends in a row! It appears the staff makes their own gluten free dough and it is one of the more unique and better tasting offerings we have come across in a restaurant setting. If you're with company that doesn't have any sort of allergies, then they will absolutely LOVE the crust being produced here. We particularly liked the Sweet Bee (Spicy Soppressata, Calabrian chilies, honey, chili oil, sweet corn, crème fraiche, garlic olive oil and fresh mozzarella). For a traditional tomato base, I really like the Pork Love (Pork Love Prosciutto, Soppressata and fennel sausage). The restaurant also has an extensive wine list with happy hour specials Tuesday through Saturday. Oh, and be sure to save room for the Salted Butterscotch Budino. We thought we would want to split one the first time...the next visit we each ordered our own.
Lastly, my wife would kill me if I didn't mention that BeerBurger in North Liberty, which has a dedicated gluten free fryer! If you're reading this and you don't have food allergies, then this won't be a big deal to you. For those that do, this means that you're in for a treat. French Fries. These are not just any normal fries - these are BeerBurgers fries. You either opt for plain or sweet potato french fries, (served with a delicious marshmallow fluff) which can then be topped with your choice of chili cheese, "dirty" (smoked applewood bacon and bleu cheese), or tableside poutine. Our favorite has been the dirty option, but there are no wrong choices here. The burgers are also unique and delicious and can be offered on gluten free buns. BeerBurger also offers adult milkshakes (containing alcohol) and a self-serve beer wall along with many taps behind the bar. It is a real treat living a just few minutes away!
These restaurants are just a few of my recommendations and I hope that your dining experience will be as great as ours. Thankfully, many restaurant employees in Iowa City are pretty well educated on allergens. If all else fails, be sure to use the Find Me Gluten Free app, is available for most devices.
All posts are the sole opinions of the author and are not sponsored by Think Iowa City. For information on how to become a contributing writer, contact Clarissa Kane.