2020 BRAVO Awards
Think Iowa City, the Iowa City/Coralville Area Convention & Visitors Bureau (CVB), announced its 2020 BRAVO Awards virtually over a series of social media posts the first two weeks of January 2021. Typically, recipients are surprised with the award at the organization's annual luncheon. With the event postponed for this year, Think Iowa City staff got inventive by finding ways to ambush the recipients on various Zoom calls or virtual meetings.
"How we presented these awards this year was so much fun," said Josh Schamberger, President of Think Iowa City. "We were able to involve so many friends, family, and coworkers of our recipients that made the presentations so much more special. I thoroughly enjoyed the process."
The BRAVO Awards acknowledge individuals who are making the community a better place to live, work and visit. "They inspire the rest of us to work harder," added Schamberger. "They make this area unlike any other place."
This is the 6th year of the awards. Each recipient receives $250 to be donated in their name to a non-profit organization of their choice thanks to a sponsorship from MidWestOne Bank.
All virtual award presentations were recorded and may be viewed on Think Iowa City's YouTube channel.
2020 Recipients:
Katy Brown: Chief Image Officer at Ohnward Bancshares and small business social media generator
Jim Conard: Eastern Iowa Market President at West Bank and all around community volunteer
Nick Craig: Owner of Brix Cheese Shop & Wine Bar in Iowa City
Deb Dunkhase: Founder of Open Heartland and The Nest
Keshia Fields: Inclusion and Equity Specialist for Johnson County
Mike Frasier: Chief Instigator for the Iowa Coalition of Off Road Riders (ICORR) and volunteer leader for bike trail management in Johnson County
Dave Koch: Director of Johnson County Public Health
Sam Jarvis: Community Health Manager for Johnson County Public Health
Marlén Mendoza: Founder of Colectivo de Mujeres en Negocios (Collective of Women in Business)
Royceann Porter: Johnson County Board of Supervisors and leader on the Coalition for Racial Justice
Jamie Powers: Owner of Deluxe Cakes & Pastries in Iowa City and co-founder of Food With Love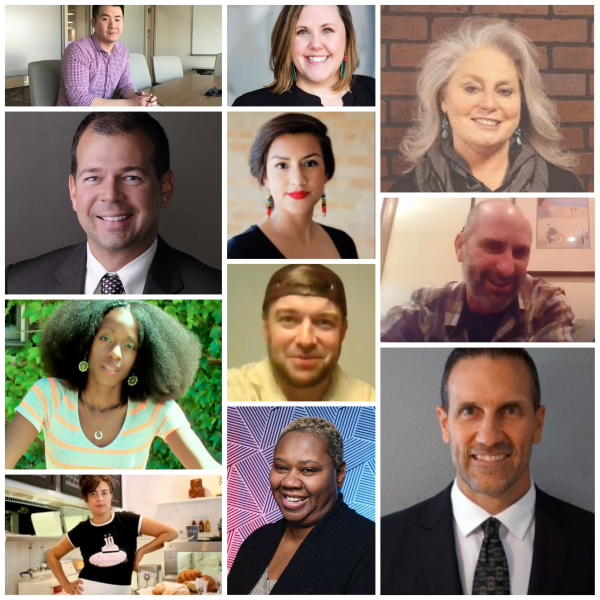 ------
Katy Brown
Katy Brown's rapid response to the closure of businesses in the Iowa City area due to the pandemic had a dramatic impact on our community. As our world quickly began to change, a late-night desperate plea from a business owner to a brilliant local marketing professional resulted in the creation of a Facebook page: Iowa City Quarantine Survival: Eats, Drinks and Dos. Within 24 hours 3,000 people had joined the Facebook group which grew to over 13,000 in a short amount of time.
Business owners quickly adapted and evolved on different ways to serve their customers while staying safe – And they now had a captive audience and safe space to promote locally. Area businesses that had shuttered reopened and promoted carry-out and delivery options. New businesses emerged from baked goods to PPE. You'd often see a post saying "I have learned so much about my community. I've lived here all my life and had never heard of some of these businesses. Shop local!"
Our community came together quickly to not only support our local businesses but made connections with one another through positive engagement and collaboration when we were isolated in our homes. Iowa City was able to survive and thrive during the most difficult of times thanks to the creation of this resource.
And Katy didn't stop at that. She did it again by creating the Holly Jolly Holiday Shop Small 2020 group, helping direct shoppers where to go for the best local gifts.
Katy is currently the Chief Image Officer at Ohnward Bancshares, and the founder and CEO of Katy Brown Marketing. She is deeply involved in the Iowa City area community, including supporting Iowa City's entrepreneurs. She has a soft spot for people creating their own place and space in this world - and helping them find their voice. A wife to one. Mom of three, plus two pups and a friend to all.
Video of Katy's BRAVO Award Presentation
Jim Conard
Jim Conard is the Eastern Iowa Market President at West Bank. He is a past president of the Iowa City Noon Rotary and serves on the boards for United Way, ICAD, Iowa City Area Business Partnership, Johnson County I-Club, and 100+ Men Who Care. This year, Jim joined the Project Better Together steering committee, which was formed in response of the pandemic and aims to build a transformed future for the community with greater economic diversity, growth, inclusivity, resilience, and well-being for all.
One of the Project Better Together's achievements was the highly successful "Holding Our Own" shop local campaign. Jim took the lead on securing the funding for the campaign by working with all of the local banks and credit unions…his business competitors. The campaign ultimately generated over $800,000 in economic activity in Johnson County.
Video of Jim's BRAVO Award Presentation
Nick Craig
Nick Craig has always been a supporter and advocate for local Johnson County businesses.  He is the owner of Brix Cheese Shop & Wine Bar located in the Northside Market Neighborhood. Nick has always been a leader and strong voice for the neighborhood, helping create a unique ecosystem and symbiotic relationships within the Northside Market businesses.
2020 offered its own unique set of extremely difficult challenges because of COVID, threating many small local businesses with the possibility of having to close their doors permanently.  Recognizing the hit that businesses would take Nick wanted to do something to help his fellow entrepreneurs, and started a pay-it-forward campaign. The idea was initially in part as a gift to his girlfriend when it wasn't going to be a possible for them to go to a live music performance and eat at a local restaurant like they normally would. In April he issued a challenge for his customers: For every $100 Brix gift card purchased, he would pay forward 100 percent, with 75% of the money going to various downtown Iowa City venues, restaurants, and retail, and 25% going to the Englert Theatre. If someone would buy $1000 in gift cards, he would in turn buy $1000 in gift cards. By the end of the campaign $13,000 in gift cards had been purchased to local businesses and musicians. He did a second campaign in May auctioning off bottles of champagne in support of the local Riverside Theatre for 8 weeks. 
Nick Craig is a true representation that is takes many to help support the small business economy, and showcases how essential its sustainability is to the community. He showed that one person can truly make a difference, encouraging and motivating others to lead by his example. Several other pay-it-forward campaigns can be attributed to his initial example. In the 2020 world of businesses continually being forced to shift their business plans and focuses he reminds us where community dollars should be spent.
Nick continues to be a champion for local Johnson County businesses and has started a THIRD pay-it-forward gift card campaign for the Holidays.
Video of Nick's BRAVO Award Presentation
Deb Dunkhase
Deb Dunkhase was the Executive Director of the Iowa Children's Museum from 2002-2019. In her "retirement" Deb has remained busy and continues to go above and beyond for the Iowa City Community. She is an active member of the Iowa City AM Rotary, serving as the president until a few years ago and as the Team Leader for the Iowa MOST program traveling to Guatemala each (non-COVID) year. 
Deb was the spearhead for the creation of Open Heartland, a grassroots, community-based initiative created to celebrate the richness and strength of our diverse community through fostering inclusivity, building relationships and reaffirming our shared humanity. Deb began this work a few years ago, doing outreach to the at-risk communities, mostly Latina and other immigrant groups - some documented some not – mostly in the trailer parks in Iowa City, a couple of years ago with Laura Westermeyer, doing Christmas parties and other support as needed. When the pandemic started last January, Deb recognized that these communities were being disproportionately affected. So she, as she often does, went into high gear to help. Open Heartland soon became a formal 501c3. They raised money to help pay rent, distributing food, finding housing for new arrivals and helping with donated furniture and appliances. Parkview Church donated 3,000 square feet of space in Pepperwood Plaza. In about two weeks Deb and a group of women cleaned, repainted, and recarpeted the space and created a "center" for Open Heartland activities. When schools went online last spring, Open Heartland found that the people they had been helping with the necessities were also struggling with online learning – so the "Nest" was born. They got reliable high speed Internet set up in the Parkview space with socially distant learning stations and volunteers to help kids one-on-one to try and keep up with their schoolwork. They also have a tienda in the space where families can shop for free and get clothes and furniture etc.
Lastly, they have identified about 150 families (about 700 people) to fulfill Christmas wish lists for. Through Deb's vast network they've gotten donors to "adopt" all of the families to make sure all the kids – and adults – get presents on their wish list. 
During her "spare-time" Deb also teaches two courses at the Tippie College of Business on Management and Governance of Non-Profits.
Video of Deb's BRAVO Award Presentation
Keshia Fields
Keshia Fields is the Inclusion and Equity Specialist for Johnson County. She started in this position just last January and has made important strides in improving the culture in departments throughout the county. She partners with departments and offices at the county to encourage a culture where everyone feels like they belong. Prior to this position, Keshia worked for Johnson County Public Health assisting in efforts to prevent disease and promote health for Johnson County residents. Can you think of two areas of work more important and influential in 2020 than those?
Additionally, she serves on this important communications commission for the City of North Liberty, has been a leader and volunteer for the North Liberty Blues & BBQ event, and is a volunteer with "Grow: Johnson County."
Video of Keshia's BRAVO Award Presentation
Mike Frasier
Mike "Rage" Frasier has long been an adventure-by-bike kind of guy, and he's made it his mission to help make Johnson County mountain bike singletrack as accessible and fun for as many people as possible. In his current role as chief instigator for ICORR (Iowa Coalition of Off-Road Riders), he wears many hats.
First, of course, there is the safety helmet (and safety glasses and chain saw chaps). Mike and the dedicated crew of ICORR Trail Gnomes monitor conditions at Sugar Bottom mountain bike trails, the Woodpecker Trails in Coralville, and the Trueblood Recreation Area. If Mike is not at home on a weekend, he is likely on a trail in the woods somewhere, draining ruts, mowing trails, clearing downed trees, building bridges, grooming trails with the Snow Dog, or plotting new trails and features.
In fact, the day after the derecho hit, he was out at Sugar Bottom, armed with chain saws and other implements of trail restoration. There are approximately 13 miles of trail at Sugar Bottom, and post-derecho there were trail obstructions requiring chain saws an average of every 400 feet. He coordinated an estimated 500 hours of volunteer labor to clear and re-open the trails at Sugar Bottom—and in Coralville—in record time.
He has a race director hat for as many types of off-road races and events as he and his partners in MTB adventuring can think up, including a fat bike enduro when we are lucky enough to have snow in January, a springtime mountain bike marathon, the Sugar Bottom Scramble (the longest-running mountain bike race in the state), and a nighttime Halloween ride.
He has a party hat, too, and has been known to show up at the front lot of Sugar Bottom on a summer Friday night to get a group out on the trails for a friendly ride, followed up with a cooler full of brats and dogs for grilling. And he has patiently taken many groups of novice riders, including grade-school kids who may unexpectedly bounce off of trees, on rides to help them experience just how awesome mountain biking can be.
In his spare time, he crafts race trophies with his chain saw and designs ICORR t-shirts, both of which he delights in awarding to the fantastic riders and trail gnomes who bring ICORR events and trails to life. He has perfected the art of trail maintenance while riding, deftly snapping a face-slapper branch off or unclipping from a pedal to precision-kick a branch off the trail at 9 mph. And he never stops dreaming about new places for trails and thinking up new partnerships to make it happen.
Video of Mike's BRAVO Award Presentation
Dave Koch and Sam Jarvis
2020 has put to test every public health department in the country. The Public Health Department of Johnson County flew into action immediately at the start of the pandemic recognizing its seriousness. The department's quick actions and efforts made an immediate impact on the community led by Department Director Dave Koch & Community Health Manager Sam Jarvis. They both understand the important role the department has in communicating with the public and doing everything they can for the safety of its citizens.
They each have their own individual highlights in how they have stepped up for the community during the pandemic. Johnson County was the first county in Iowa to have COVID-19 cases. Dave, along with the Emergency Management Director, set up the county EOC where it continues to meet and coordinate operations.  Dave coordinated with the County Attorney, the Board of Health, and the Board of Supervisors to pass Iowa's first county wide mask mandate.  He continues to coordinate with the board of supervisor's office for local media and press conferences.  Dave sits on the Johnson County Government re-opening task force and coordinates with Johnson County social services to assist with de-population to provide safety.
For Sam, he is tasked with the coordination of vaccine planning and future distribution.  He supports long term care and adult living facilities with COVID-19 planning.  He coordinated public awareness of COVID-19 with press releases, the Johnson County COVID-19 website, any requests for expertise, and additional community awareness projects (example being the distribution of JC Public Health mask up decals for local organizations).  He is responsible for the overall coordination of Johnson County community response to COVID (diseases investigation and contact tracing).
Both Dave and Sam coordinate with community partners for local press conferences, presentations, and event planning.  They expanded the department's capacity by requesting additional staff to meet the projected diseased burden. They coordinate with Linn County Public Health to protect the corridor and communicate and support schools in their decision to do virtual/remote learning.
Video of Dave and Sam's BRAVO Award Presentation
Marlén Mendoza
After moving back to Iowa City from Washington D.C. Marlén Mendoza was quick to have an impact in the Johnson County community. This past year, Marlén was appointed the President of Iowa City's League of United Latin American Citizens chapter, which is the local chapter of the oldest and most widely respected Hispanic civil rights organization in the United States of America. In this role, Marlén has helped lead advocacy efforts for K-12 education for Latino students during COVID-19, voter registration initiatives, and helped organize community outreach events. 
Through her community and professional work, Marlén became the go-to for assisting Hispanic women looking to start and grow their businesses. It quickly became clear that there was a need for these women, so she helped form the Colectivo de Mujeres en Negocios (Collective of Women in Business), a women's collective in the Iowa City area that helps and supports immigrant women and women of color launch their own home businesses. Marlén has helped these women navigate the sometimes-challenging path to entrepreneurship, making their dreams of starting a business become a reality.
In her day-to-day job, Marlén works as a Youth Engagement Consultant for the Forum for Youth Investment, where she leads outreach to youth movements, networks, and adult allies to become active amplification partners and allies to the project.
Video of Marlén's BRAVO Award Presentation
Royceann Porter
Royceann Porter is a caseworker at Shelter House and a current member of the Johnson County Board of Supervisors.  Porter made history in 2018 when she became the first person of color elected to countywide office in Johnson County, and was recently re-elected to another term as Supervisor.  A native of Saginaw Michigan, Porter relocated to Iowa in 1989 for a job at Iowa Beef Processors.  While her time in the Eastern Iowa meatpacking industry was short-lived, her role as a Johnson County community activist has been long lasting and impactful.
The scope of Porter's community activism has been widespread since moving to Iowa City from Washington County in 1992.  She has worked tirelessly on issues such as improving access to mental health services, expanding affordable housing, promoting workers' rights and helping newly arrived people of color adjust to life in Iowa.  In addition to being a caseworker for Shelter House, she has worked as a juvenile court liaison, run community outreach programs for the Salvation Army and organized workers for the Teamsters.  Porter has played a lead role in the community on issues regarding social justice for Black and Indigenous People of Color.  Porter has been a leader on the Coalition for Racial Justice, co-founded the Black Voices Project, has served on the Iowa City Community Police Review Board, as well as the Johnson County Disproportionate Minority Contact Committee and the Juvenile Justice Youth Development Policy Board.  Porter was recently appointed to Iowa City's newly formed Truth and Reconciliation Commission, an advisory Board tasked with informing the council's work to end systemic racism. She also serves as the ex-officio from the County on the Think Iowa City Board of Directors.
When she is not working tirelessly towards changing our community for the better, Porter enjoys spending time with her husband and two daughters.  She is also especially well known for her classic soul food cooking, using her recipes to make people feel welcome in the community.  Living by the motto "food will bring people out", Porter enjoys sharing her fried chicken, macaroni and cheese, fried cabbage, green beans and corn with the community.
Video of Royceann's BRAVO Award Presentation
Jamie Powers
Jamie Powers is the owner and executive pastry chef of Deluxe Cakes and Pastries in Iowa City. She opened the bakery in her basement in 2003. After 9 months of building a delivery client base, Jamie had the vision to renovate an abandoned grocery store that had served as an art gallery into a neighborhood boutique baker. Deluxe Cakes and Pastries has become a staple of the storied Longfellow neighborhood and a destination for foodies everywhere. Using many ingredients from within a 60-mile radius, her bakery truly knows what it means to be local. From birthdays to weddings to holidays to funerals, Deluxe helps Johnson County celebrate with their unique offerings.
Jamie's shop alone is enough to get her consideration for an annual BRAVO award. But with the pandemic in 2020, it's her work co-founding the Food With Love program that really shines. Teaming with Table to Table and Common Table, Jamie and her team at Deluxe lead the charge with other local restaurants to plan, prepare, cook, and deliver over 250 fresh meals each day to nonprofits to distribute to families in need. Her work helped keep restaurants in business, people at work, and community members fed.
Video of Jamie's BRAVO Award Presentation